WTM Latin America 2016 and the 45th Braztoa Business Event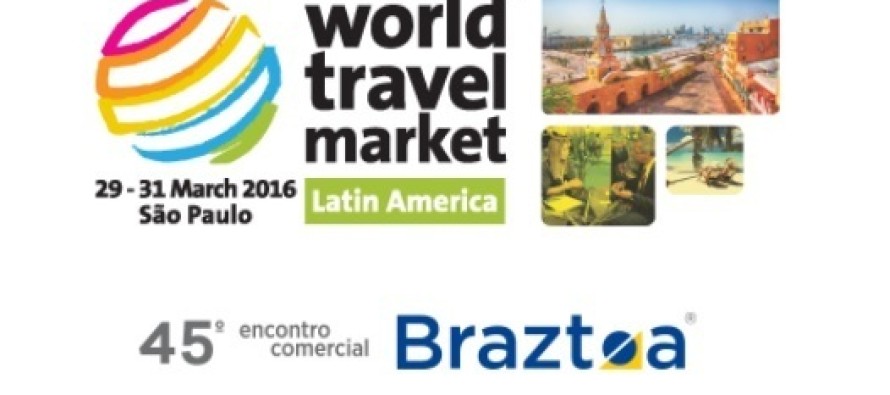 OHMYGOSSIP — The 45th Braztoa Business Event will be held within WTM Latin America 2016 in an area of almost 1200sqm occupied exclusively by Braztoa's associates.
Visiting Information
Venue:
Expo Center Norte, Rua José Bernardo Pinto, 333 – Vila Guilherme – São Paulo, SP
Dates:
29 – 31 March 2016
Opening Times:
Tuesday 29 March 12:00-20:00
Wednesday 30 March 12:00-20:00
Thursday 31 March 12:00-18:00
Braztoa will continue with their main objective of forging and strengthening relationships between their associates (Tour Operators, Representatives, Colaborators and Guests) and other tourism professional from Brazil and beyond. At WTM Latin America, the Braztoa Business Event will keeping to present trends and what's new for the next season.
Braztoa will perform their other 2 annual Business Meetings: São Paulo (1st and 2nd semester), Rio de Janeiro and Porto Alegre.
BRAZTOA's traditional and successful Caravanas Rodoviárias (from the inner state and coastal regions of São Paulo) and Caravanas Aéreas (from other states) will still be available to their travel agents and it will include accommodation and transfers (depending on the city of origin).
Reasons to take part in the 45th Braztoa Business Event:
Training sessions available for Travel Agents
Trends in the tourism sector presented
Products launched for the next season
Strengthen relationships with the tourism sector
Opportunity for direct negotiations with directors of exhibiting companies
Network with other professional from the sector
Transportation (highway and air), transfer, accommodation, and air ticket discounts provided for travel agents through the Caravanas Programme
"The partnership between Braztoa and WTM Latin America has been consolidating year on year. This is the result of the professionalism there is in the organization of events, the focus on business and the diversity and richness of the programme, all of which contribute to the development of the sector and of the professionals who operate in it.
Among other things Braztoa will continue organizing the road and air caravans that will facilitate the participation of approximately one thousand travel agents from all over the country. The work it does among operators and agencies is complementary and has the potential to grow even more in 2016. We need to take advantage of the opportunity that the event provides us with to recycle ourselves, to open our minds to what's new and to expand our knowledge, our networks and our view of the market and the business we do. The world is becoming increasingly more dynamic and tourism is no different. We shall be waiting for tourism professionals to join us in Expo Center Norte between 29 and 31 March". Magda Nassar, President of Braztoa.
More info: http://www.wtmlatinamerica.com
Read also:
Save money on flights for World Travel Market (WTM) events
OHMYGOSSIP — Delegates attending events within the World Travel Market portfolio can take advantage of discounted air fares with oneworld airlines following a groundbreaking deal between the alliance and World Travel Maket's parent company Reed Travel Exhibitions (RTE).
---
---