OUTLINE of the famous Bulgarian prophet Vanga's predictions. Does it all actually come true?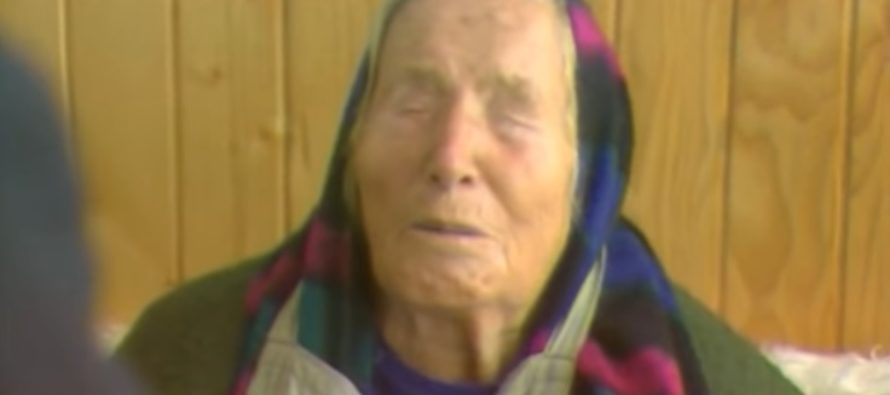 NordenBladet – Europe will be deserted: clairvoyant Vanga has declared that in 2016 Europe will be barren, cold, almost lifeless – as a result of the chemical weapon used against
extremists.
After the terror acts that took place in Paris and Brussels the European Parliament has launched a paper indicating the evident risk of ISIS using chemical and biological weapon in the subsequent attacks. This suspicion is supported by the fact that ISIS has been recruiting more and more chemists, physicists and programmers.
China will become a supreme country: this will happen in 2018 according to the prediction, also allegedly U.S. and its economy will fade. According to Vanga the developed countries will change positions with third world countries and oppressors will be oppressed.
In 2011 the International Monetary Fund (IMF) envisaged that the Chinese economy will outpace the U.S. economy, turning into a new superpower.
Hunger is combatted: though Vanga did not assert a concrete time, it is going to happen within the period of 2025-2028.
People are heading off to Venus: the prophet has revealed that people start seeking sources of energy from Venus in 2028, and a manned spaceship will be sent there for that reason. More than that – Venus will become another home planet for us. Today this scenario is somewhat odd, since the temperature on the surface of Venus is near 500 degrees.
Europe will be dominated by muslims: the blind clairvoyant has foreseen that by 2043 muslims will prevail in Europe. Rome is to be the capital city of the Islamic caliphate. According to Vanga this situation will follow the pouring of refugees to Europe and the consequent fall of Syria. A new world religion allegedly rises.
Glaciers melt: granny Vanga described that by 2045 the poles have melted and water levels in the oceans rise. There is also research in support of this – as a result of global warming by that time Earth may have swallowd up ice.
Human organs can be cloned: by 2046 medicine has progressed so much that it becomes possible to clone and artificially create human organs. According to Vanga this will be also the easiest and most popular curing method.
USA will attempt an attack to the European caliphate: in 2066 the Americans try to attack Rome using a novel climate weapon for the purpose of liberating Europe from the muslim rule.
Return of communism: by 2076 social class disappears and communism arises, spreading in Europe and all over the world.
Submarine civilizations appear: Vanga's prophecy depicted intervention from extraterrestrial beings on Earth by the year 2130 that would facilitate the human aptitude to survive under water and possibly bring along also the colonization of oceans.
The world comes to an end: by the year 3797 all life on Earth will disappear. By that time humans have progressed and science has advanced to a point allowing our descendants to move from here to another stellar system. Over the period of  the ensuing millennium many planets are inhabited and by 4674 the total human population is nearly 340 billion. However, the entire living space is soon cramped and in 5078 our successors decide to leave this universe, despite 40% of people are opposing this idea.
Featured image: Vanga (OHMYGOSSIP)
---