Anti-Ageing Skincare Conference 2018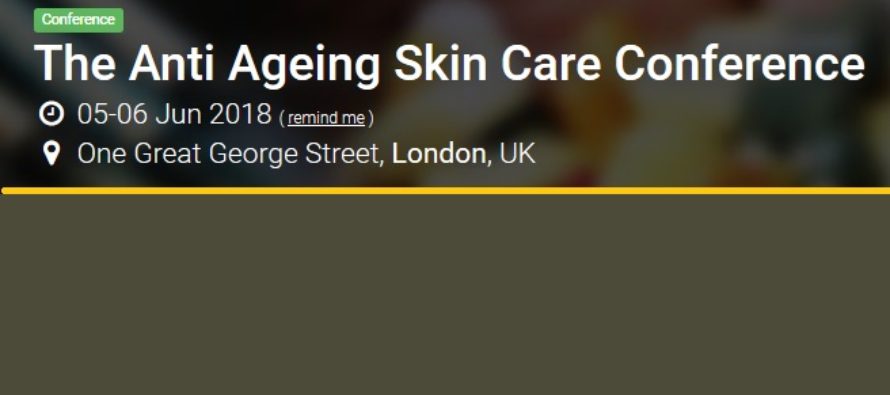 NordenBladet – The 2-day international meeting is established as a high-level forum for in-depth presentations and discussions on the scientific, regulatory and marketing issues affecting this highly relevant and rapidly developing anti-ageing skin care sector.
The general theme of the conference focusses on defining and maintaining healthy skin and safe-guarding against premature skin ageing. The effects of environment al insults, genetics and the benefits of active skin care products and nutrition will be discussed.
Professor Christopher Griffiths, Foundation Professor of Dermatology, University of Manchester gave the inaugural lecture ('Fountain of Youth -Fact and Fiction?') at our first conference in 2008. He will open the 2018 conference with his keynote lecture '10 years on but can we prevent skin ageing?'
Other speakers include Dr Frédéric Flament, Research and Innovation, L'Oréal Paris, France (Mapping skin ageing): Dr Bianca McCarthy, University of Sydney, Australia (Vitamin D for healthy skin) and Prof Paul Matts, Proctor and Gamble, UK (Healthy skin and Ageing skin)
There will be 18 invited speakers, expert in their field, who will present and discuss the topics mention above and new formulation technologies, innovative product testing for functional activity and claims support.
The meeting will give new insights into skin health, beauty, skin age prevention and treatment with active discussions with the Industry's top scientists and technologists.
2018 conference session titles:
1) The science of skin health and skin ageing
2) Performance testing for innovative claims
3) Creating effective skin care for healthy younger looking skin
4) Functional skin care and physiological effects: the regulatory challenges and interfaces
Delegates to this biennial conference are professionals working and interested in the skin care product sector, in particular skin care formulation chemists and development scientists, product evaluators, clinical trial co-ordinators, regulatory professionals, senior managers in skin care development, marketing and sales and other professionals (dermatologists, beauticians, beauty editors, etc.) interested in the current status of the scientific aspects of anti-ageing skin care technology.
5 – 6 Jun 2017 | London UK
Organiser: Dr Jack Ferguson, Skinnovation Ltd, UK
Event venue: 30 Euston Square, London
Telephone: +44 207 828 2278
Email: info@summit-events.com
Web: 3rd International Skin Care Conference Topics include environmental impact on skin ageing such as Infrared-A, PM2.5, customised skin care; clinical efficacy testing and cumulative effects and claims..
---
---