Rowing Club SAK Tartu sportswoman Hanna-Liisa Ennet performed a world record on Concept2 Indoor Rower – by completion of the individual 1000 km ultradistance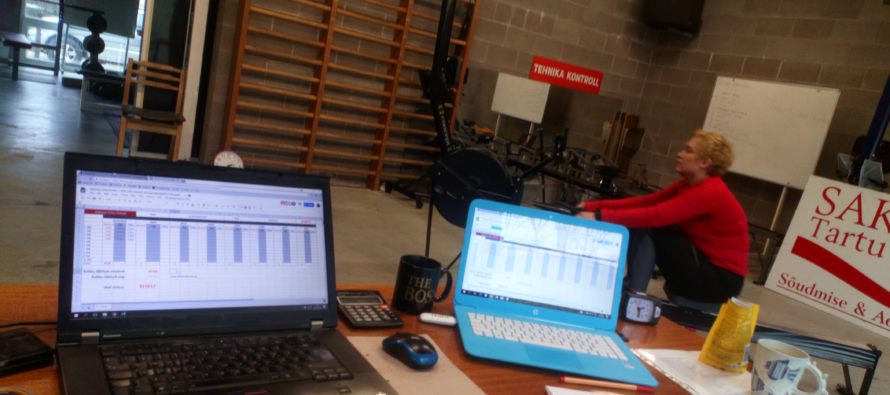 NordenBladet – the City of Tartu Rowing Club SAK Tartu (Sõudespinning Estonia) member Hanna-Liisa Ennet (38) performed a world record result in the beginning of April, completing the indoor rowing ultradistance 1000 km – an accomplishment that in Estonian indoor rowing history has been achieved just once before by the Estonian sportsmen-tandem (athletes Rait Merisaar and Rainer Saad) – thereby being the one female rower in Estonia ever to have completed this extreme distance in a limited timeframe and furthermore, to have completed the distance individually as opposed to tandem, rowing the entire distance solo without shifts.
"The leading motivational prerequisite to cover the 1000 km distance is the person's inner drive to do so. Once you have the necessary motivation, you just need to develop the habit of being seated on the erg, catching one meter after another – adapting your muscular and skeletal apparatus and advancing the overall endurance of the system. It is important to choose the optimal pace and setting, and distributing the work load timewise and muscle group engagement wise," says ultrarower Hanna-Liisa Ennet to NordenBladet.ee.
"Completion of the Million Meter world record row is definitely the biggest and most exciting event in my life so far. The experience is rendered especially unique in the light that the international community of such "crazy" ultra rowers is very narrow and there are just a few who have successfully completed this particular challenge. The Million Meter community is small but supercool! Hereby I have to admit that it is difficult to achieve anything significant without a great team of allies – I have been lucky to have a great team in this enterprise and I wish to thank all the support team members for being there in order to help, supervise and encourage as well as just being there beside me," added Ennet.
Who: Hanna-Liisa Ennet (38yrs)
When: Monday, 2nd April 2018, 02.00 am until Monday, 9th April 2018, 01.00 am
What: Individual Million Meters on Concept2 Indoor Rower
Supervised by: Rait Merisaar, Rowing Club SAK Tartu
Category: F30-39 Hwt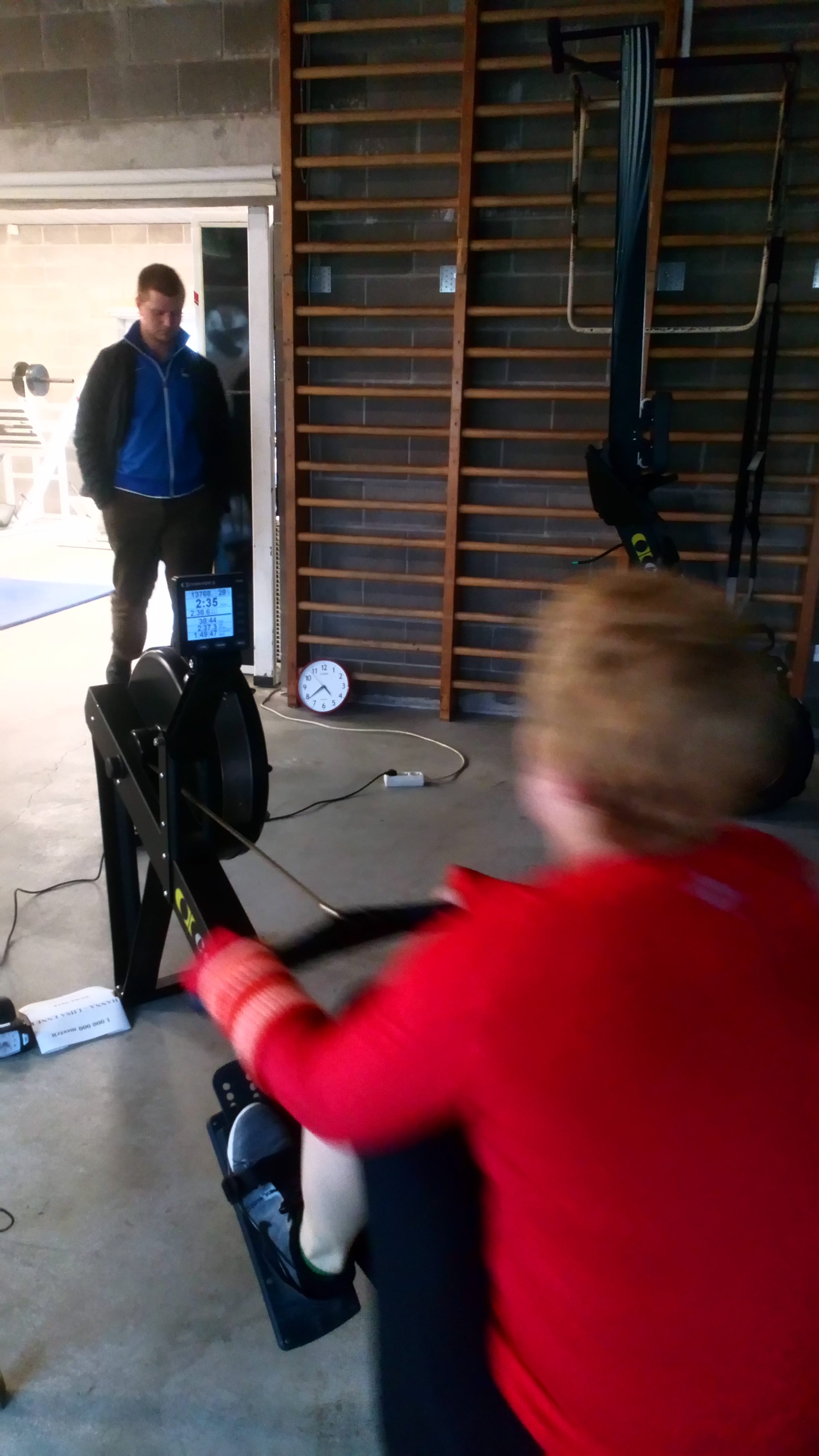 Excerpts from Hanna-Liisa Ennet's Million Meter sports journal:
The idea of completing an ultradistance emerged perhaps in November last year, when our Rowing Club boss, coach and world record holder Rait Merisaar forwarded me a story about a recent individual Million Meter world record row, written down in a fascinating style by the ultra distance indoor rower David Plumb. On the one hand the story was of course extraordinary from the point of view of the accomplishment, and on the other hand the text itself was very enjoyable. So it happened that I read the story repeatedly until I started to wonder if I myself might actually be capable of accomplishing something like that, too.
By the end December last year I had been entertaining the idea for a while, in January I already took concrete steps to start moving towards achieving this goal – I participated in the Virtual Team Challenge and covered the distance of circa a thousand kilometres within 31 days. However, my target was something bigger. I wished to cover 1000 km in a narrow time frame. In February we had conversations with the coach about the optimal rowing schedule options and within February and the beginning of March we had a solid plan and detailed schedule on the table.
The ambitious plan (Plan A) was to row 1000 km in seven days. Counting calendar days it actually took a little bit of the eighth, too, but if we count start time then the assignment to cover 1000 km was completed quite exactly within seven days.
The million meters total was eventually built up from 21 km units: morning sessions comprised 3 half marathons and evening sessions comprised 4 half marathons. A half marathon is 21097m in distance and it normally would take up to 2 hours to row one (my times are mostly 1:40 … 1:50). the Million Meter schedule had foreseen seven halfies to be completed every day – except for Day 4 when the schedule had foreseen half the working load, and Day 1 when the schedule had foreseen 8 half marathons (4 full marathons) during the day. When doing longer distances it is predictable that the times deviate a bit from one's usual standards, since the pace of rowing 1000 km (47 half marathons) cannot remain the same as it is when you pop in the gym for just one half marathon with fresh and relaxed muscles.
The start time was 02.00 am on April 2, 2018. From then on the start times were 03.00 am every day. By the end of Day 1 I was planning to cover 168 km, by the end of Day 2 I was planning to cover 315 km, by the end of Day 3 I was planning to cover 462 km, by the end of Day 4 I was planning to cover 546 km, by the end of Day 5 I was planning to cover 693 km, by the end of Day 6 I was planning to cover 840 km and by the end of Day 7 I was planning to cover the full distance 1000 km. I was able to stick to the plan during the entire week, therefore it didn't scare me for once that it might perhaps turn out necessary to reschedule the row in the middle of the week, or that it might turn out inevitable to discontinue at some point. It occurred just once that we had a serious 10-minute dispute and discussion with the supervisor about how to proceed with the plan, since towards the end of Day 3 the day's final 21km unit was lagging behind schedule. I had been wondering to myself whether it were reasonable to build in some modifications to the week's plan. However, the plan remained exactly as it had been printed out before Day 1, thanks to the experience and convincing arguments from the supervisor Rait Merisaar – so I proceeded by covering the final unit that same night and never brought up the question of possible rowing schedule modifications later that week.
Still, there was this one exception concerning the final day, when the starting time 03.00 am was postponed 1,5 hours due to falling asleep later the previous evening – I went to sleep at around midnight and didn't wake until half past 3 am; besides, yet an additional delay in the starting time was due to my wrists and fingers – after having rowed many hundreds of kilometres my hands had become spastic and numb at the same time so that freshly after waking I couldn't get them anywhere near fine working order before a 30-minute stretching and stimulating massage.
The most grievous point was the one day before it all began. The previous week had dashed by, full of preparations, always in a hurry, getting everything ready, thinking it all through, purchasing the final products. Lunchtime was gone before I noticed and instead of building up the energy reserve I lost a few kilos – due to involuntarily skipping meals and permanently rushing and perhaps worrying more than usual. Two days before the start I was also supposed to refrain from training, so I didn't move as much as usually and as a result the system reacted to these interruptions: I developed a slight fever and had a running nose. Both manifestations I attribute to performance anxiety and therefore I didn't contemplate any modifications or trade-offs to the rowing schedule.
—
During the first week of April I completed individual million meters (1000 km) on the erg. Indoor rowing ultra distances have earlier been pushed just once by Estonian sportsmen – by the tandem Rait Merisaar and Rainer Saad. The extreme distance is a strain for the body as well as the mind, assuming preparations and planning, and also quite a bit of courage to choose the road less travelled, to put it figuratively.
Among the more interesting questions for me about this eneterprise is the question of motivation: why would one choose to spend an entire week seated on the erg, pulling the handle? It could perhaps be thrilling to spend an hour in the gym, or to train two hours, ten hours, maybe even as long as 24 hours – but why remain on the erg for a week?
One option to answer this is to ask back: why not?
Why wouldn't you want to challenge yourself with a task more difficult than the average and why wouldn't you wish to learn your boundaries and your possible reactions in extreme situations? When facing a strange and voluminous task we oftentimes exaggerate the importance of the task and frustrate ourselves with mere thoughts about it, not acting upon it. Looking back it often happens that the enterprises that used to seem weighty at first somehow later seem quite ordinary or at least sufficiently manageable and the discrepancy between perceiving the magnitude of that what is still ahead and what has already passed is the obstacle keeping us back from trying new things, dreaming big, and planning accordingly. We tend to automatically put the label "Of great magnitude and risk" to a task, instead of dividing the assignment into building blocks and milestones, and getting things done "one day at a time", not being excessively disturbed by the volume of the entire enterprise along the way.
For me personally, besides the rowing part itself, the planning of the million meters row was equally exciting. One of my role models, the successful British Olympian Sir Steve Redgrave has emphasized the benefits of visualization: when getting ready for a competition it is equally important – besides proceeding with the regular training routine – to imagine the situation of the competition and be mentally in the process of the competition in full detail. For example: to visualize having been seated on the erg for the entire day, for two days, for three days – what kind of thoughts I might be having, what kind of desires, what kind of mood, what I might like to eat, what I might wish to do during the breaks. Once I have these answers ready in advance I will have all the time uniquely for focussing on the task of covering the distance. Also, by excluding possible surprises the level of anxiety and fright would be lower, knowing that there is no significant obstacle potentially impeding the accomplishment of the enterprise or perhaps even coercing me to stop.
The preparation period was actually very brief, yet thanks to the pressing urge that overwhelmed me, a practical action plan materialized and over these few months I also pulled myself together to the best emotional and physical condition or quite close to that. I also managed to get ready with the logistics and the technical preliminaries. January had been the month of another challenge, so in February I mostly took it easy and rather than tiring myself more, tried to monitor my individual peculiarities of recovery, keeping in mind that the end of an enormous effort is not the finish line but instead the end of the recovery phase. I visited the sports doctor in order to have my health checked and to avoid possible hazards – the test showed wonderful results and that added to my self-confidence and pleasant excitement concerning the project. In the beginning of March I trained more intensely after the transition period, towards the end of March continued with the usual training routine, aiming to save energy and maintain a balance between fitness and fatigue. A week before the Big Row I took a holiday from work, to peacefully ponder the rowing schedule and the week's agenda, to aquire and own it, and attain readiness to contribute the maximum to this goal, knowing that if everything goes as planned I would be enjoying the fruits of the work in a week's time. Early enough I had already prepared many pairs of sporting kits – training shirts and leggings, sports shoes, etc. Also I had packed an exhaustive first aid suitcase for any possible complaint (and didn't use it), I had the drinking bottles and sports drinks all ready and the food list compiled.
Two days before the start I catered the meals for the week. The amount of food was plenty and so there was at once one worry less: at least I wouldn't be hungry during the week! Since I had carefully planned my healthy meals during the preparation period, eating at least one warm meal every day, including meat and dairy products, then during the Million Meter row I had intended to kind of take advantage of that preparation. During the million meter row I mainly consumed liquids, mostly sports drinks. During one half marathon (21097m) I usually consumed about 500ml of liquids. During the breaks I also preferred fluid food – strawberry/banana protein drinks, rhubarb kissel. Not once during that week did I crave for the salty or the normal food – I only ate tiny bits out of a sense of duty. Regarding all the extreme physical activity I wouldn't have been able to eat an entire plateful at a time anyway.
Very special thanks:
Rait Merisaar – for preparations, good advice, and being an example
The Million Meters support team:
Rait Merisaar, Piret Väljaots, Anneli ja Jüri Ennet, Liisi Toom, Ardi Sažko, Marian Hiire, Eve Külasalu, Rachel Kõllo, Maris Kaurov, Vahur Soosaar
Also, my acknowldgements to people who have earlier and in various ways inspired me and have been my idols, friends, training partners, companions and role models in sports:
Olympic gold medalist Sir Steve Redgrave, David Plumb, Ian Holmes, Tiina Kapten, Rainer Saad, Markel Pärnsalu, Kevin Kriisa, Aleksei Lipintsov, Andres Siiman.
Photos: Hanna-Liisa Ennet's private collection
See also:
Concept2 million meter records page
Hanna-Liisa Ennet's indoor rowing log on Concept2 Logbook
Hanna-Liisa Ennet's Million Meter log (Instagram)
---
---
Advertisement: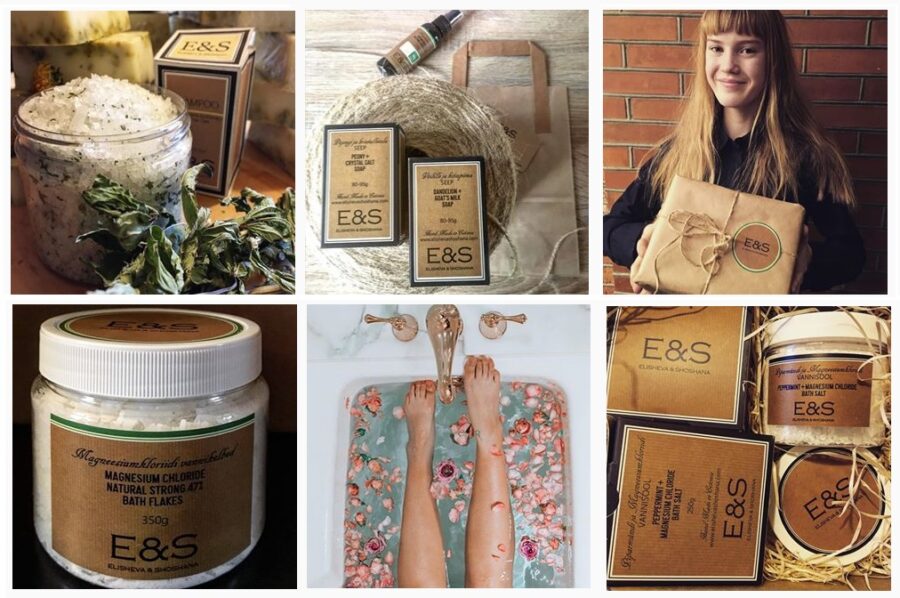 High quality & nature friendly luxury cosmetics from Scandinavia - ElishevaShoshana.com