Iceland: Landsvirkjun announces plan to become carbon neutral by 2025
NordenBladet – Today, Landsvirkjun*, the National Power Company of Iceland, will introduce plans to become carbon neutral by 2025, RÚV reports. According to Hörður Árnarson, CEO of Landsvirkjun, the company has monitored greenhouse gas emissions closely over the past ten years. Landsvirkjun's initiative forms a part of the government's plans to become carbon neutral by 2040.
Emissions Halved Since 2005
In an interview on Rás 2 this morning, Hörður Árnason stated that Landsvirkjun's emissions have halved from 2005 when greenhouse gas emissions were approximately 45 thousand tonnes per year. According to Hörður, today Landsvirkjun emits approximately 22 thousand tonnes annually. Most of the emissions can be traced to geothermal power stations, especially Krafla**. Landsvirkjun aims to reduce emissions from these sources, while also cleaning emissions.
"The steam is separated and mixed with fluid whereupon it is injected back into the site of its retrieval … it's not a simple operation and it involves considerable innovation. We believe that such efforts, however, will lead to an accumulation of knowledge that Icelandic engineering firms and others can use to sell to foreign parties."
A Comprehensive and Costly Initiative
Hörður stated that the operations will be comprehensive and costly. "It's a big project that we divide into three parts. Prioritisation is key. First, it is important to prevent emissions, which Landsvirkjun has done by adopting an internal carbon price. We're probably the first company in Iceland to have done so. For all of our projects, we equate greenhouse gas emissions with cost; for every tonne of greenhouse gas emissions we estimate that it costs us approximately $33," Hörður stated, admitting that the carbon price was relatively low. The second most important aspect of Landsvirkjun's project is reducing emissions, Hörður added, with carbon sequestration coming third.
Landsvrkjun aims to update all of its cars, machinery, and engines so that in ten years they will be powered by electricity, methane, or hydrogen.
Iceland's Largest Producer of Electricity
Landsvirkjun's presentation will be held at Nauthóll at 2.00pm today. The panel of speakers will include Halldór Þorgeirsson, Chair of Iceland's Climate Council; Kristín Linda Árnadóttir, Deputy CEO of Landsvirkjun; and Eggert Benedikt Guðmundsson, Director of Grænvangur, among others.
Landsvirkjun is Iceland's largest electricity generator and one of the ten largest producers of renewable energy in Europe. Landsvirkjun operates 17 power plants in Iceland concentrated on five main areas of operation. It is owned entirely by the Icelandic state.
_______________________________________
* Landsvirkjun, the National Power Company of Iceland, is Iceland's largest electricity generator and one of the ten largest producers of renewable energy in Europe. Landsvirkjun operates 17 power plants in Iceland concentrated on five main areas of operation.
Landsvirkjun was founded on 1 July 1965 by the state of Iceland and the city of Reykjavik. The city of Reykjavík contributed to the company three power stations at the Sog River. Shortly after its founding construction on the Búrfell hydropower station began. From 1965 until 2005 the purpose of Landsvirkjun was to produce and distribute high voltage electricity. The municipality of Akureyri acquired a share in Landsvirkjun in 1983 and became the third owner. Three hydropower stations at the Laxá River previously owned by the municipality of Akureyri were merged into Landsvirkjun. The hydropower stations Búrfell, Sigalda, Hrauneyjafoss, Blanda, Sultartangi, Vatnsfell, and Fljótsdalsstöð were all built by Landsvirkjun. The geothermal power station Krafla came under Landsvirkjun's ownership in 1986. Through a new electricity act in 2005 the company's Transmission Division became Landsnet, an independent limited company and a subsidiary of Landsvirkjun. Landsnet owns and operates the Icelandic transmission system and manages the country's electricity system. In 2007 the state of Iceland took over the ownership shares of Akureyri and Reykjavík in Landsvirkjun, turning it into a public partnership, fully owned by the state of Iceland. In December 2012, Landsvirkjun erected two wind turbines, in an area known as Hafið, within the construction area of Búrfell Power Station, in the south of Iceland. The turbines have a total of 2 MW of installed power.
** The Krafla geothermal power plant is a geothermal power generating facility located in Iceland, close to the Krafla Volcano and the lake Mývatn. It is considered to be Iceland's largest power station with its 33 boreholes, and it is able to produce 500 GWh of electricity annually with its installed capacity of 60 MW (2 x 30 megawatts).
The construction work started in 1974, but due to volcanic activities in the area, the building was slowed down. The Krafla power station was officially launched in the early 1977, but was only able to produce at its full efficiency of 60 megawatts after a second steam turbine was installed in 1996.
Originally the power plant was owned by the government, but was purchased in 1985 and has since been operated by Landsvirkjun (National Power Company). About 15 employees work there full-time.
---
---
Advertisement: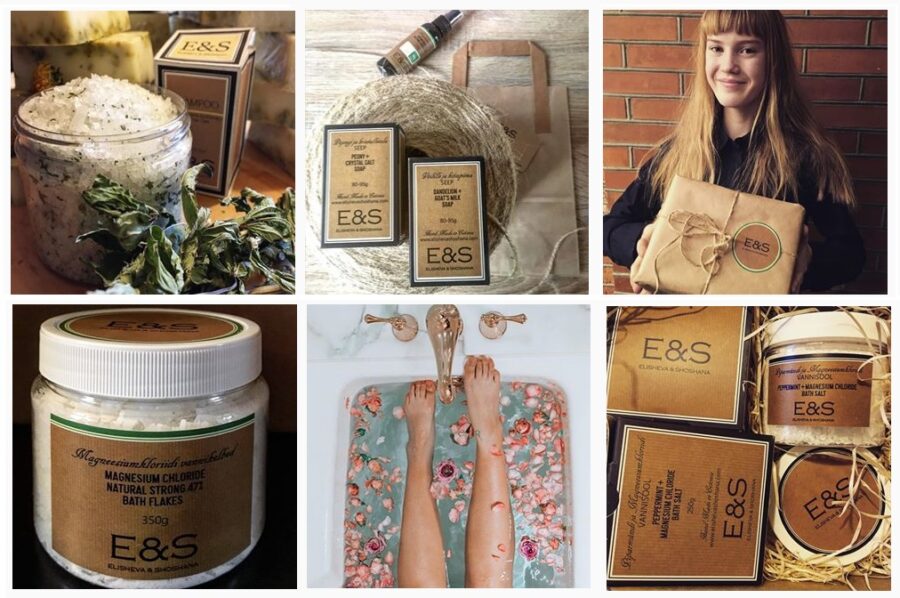 High quality & nature friendly luxury cosmetics from Scandinavia - ElishevaShoshana.com