Area: 174,000 sq mi (450,000 km²), the third largest country in Western Europe
Longest north-south distance: 978 mi (1,574 km)
Longest east-west distance: 310 mi (499 km)
Capital: Stockholm
Population: 9.5 million inhabitants
Languages: Swedish; recognized minority languages: Sami (Lapp), Finnish, Meänkieli (Tornedalen Finnish), Yiddish, Romani Chib
Form of government: Constitutional monarchy, parliamentary democracy
Parliament: The Riksdag, with 349 members in one chamber
Religion: In practice, Sweden is very secularized. The Church of Sweden is Evangelical Lutheran; co-exists with many other beliefs
Life expectancy: Men 79 years, women 83 years
Currency: Swedish Krona (SEK)
Electricity: 230V/50Hz (European plug)
Calling Code: +46
Internet TLD: .se
Time Zone: UTC +1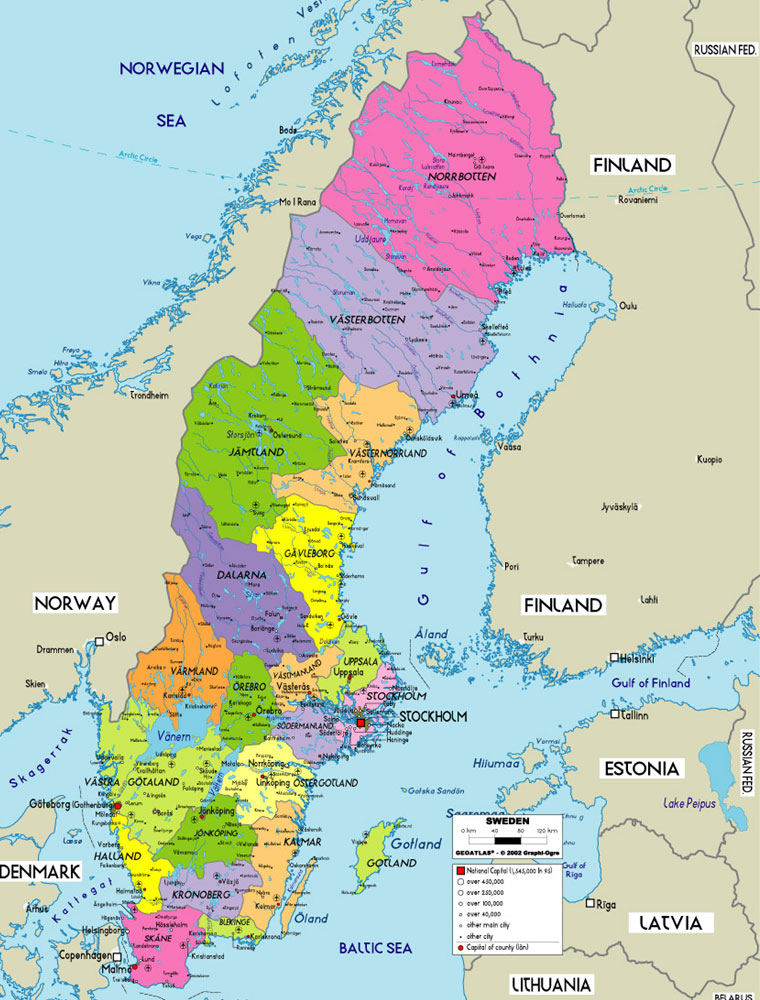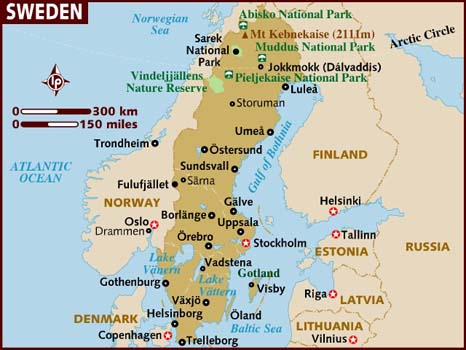 About Sweden
Sweden (Swedish: Sverige), officially the Kingdom of Sweden, is a Scandinavian country in Northern Europe. Sweden borders Norway and Finland, and is connected to Denmark by a bridge-tunnel across the Øresund.
At 450,295 square kilometres (173,860 sq mi), Sweden is the third largest country in the European Union by area, with a total population of about 9.5 million. Sweden has a low population density of 21 inhabitants per square kilometre (54 /sq mi) with the population mostly concentrated to the southern half of the country. About 85% of the population live in urban areas. Sweden's capital city is Stockholm, which is also the largest city. Since the early 19th century Sweden has been at peace and has avoided war.
Today, Sweden is a constitutional monarchy with a parliamentary democracy form of government and a highly developed economy. Sweden has the world's eighth highest per capita income. In 2011, it ranked fourth in the world in The Economist's Democracy Index and tenth in the United Nations' Human Development Index (third on the inequality-adjusted HDI). In 2010, the World Economic Forum ranked Sweden as the second most competitive country in the world, after Switzerland. According to the UN, it has the third lowest infant mortality rate in the world. In 2010, Sweden also had one of the lowest Gini coefficients of all developed countries (0.25), making Sweden one of the world's most equal countries in terms of income. Sweden's wealth, however, is distributed much less equally than its income, with a wealth Gini coefficient of 0.85, which is higher than the European average of 0.8.
Demographics of Sweden / Swedish people
As of 30 June 2012, the total population of Sweden was estimated to be 9,514,406. The population exceeded 9 million for the first time on approximately 12 August 2004 according to Statistics Sweden. The population density is 20.6 people per km² (53.3 per square mile) and it is substantially higher in the south than in the north. About 85% of the population live in urban areas. The capital city Stockholm has a population of about 800,000 (with 1.3 million in the urban area and 2 million in the metropolitan area). The second and third largest cities are Gothenburg and Malmö.
Between 1820 and 1930, approximately 1.3 million Swedes, a third of the country's population, emigrated to North America, and most of them to the United States. There are more than 4.4 million Swedish Americans according to a 2006 U.S. Census Bureau estimate. In Canada, the community of Swedish ancestry is 330,000 strong.
There are no official statistics on ethnicity, but as of 2011, a Statistics Sweden report showed that around 1.858.000 (19.6%) inhabitants of Sweden had foreign background, defined as born abroad or born in Sweden by two parents born abroad.
Geography of Sweden
Situated in Northern Europe, Sweden lies west of the Baltic Sea and Gulf of Bothnia, providing a long coastline, and forms the eastern part of the Scandinavian Peninsula. To the west is the Scandinavian mountain chain (Skanderna), a range that separates Sweden from Norway. Finland is located to its northeast. It has maritime borders with Denmark, Germany, Poland, Russia, Lithuania, Latvia and Estonia, and it is also linked to Denmark (southwest) by the Öresund Bridge.
Sweden lies between latitudes 55° and 70° N, and mostly between longitudes 11° and 25° E (part of Stora Drammen island is just west of 11°).
At 449,964 km2 (173,732 sq mi), Sweden is the 55th largest country in the world, the 4th largest country entirely in Europe, and the largest in Northern Europe. The lowest elevation in Sweden is in the bay of Lake Hammarsjön, near Kristianstad at −2.41 m (−7.91 ft) below sea level. The highest point is Kebnekaise at 2,111 m (6,926 ft) above sea level.
Sweden has 25 provinces or landskap (landscapes), based on culture, geography and history. While these provinces serve no political or administrative purpose, they play an important role in people's self-identity. The provinces are usually grouped together in three large lands, parts, the northern Norrland, the central Svealand and southern Götaland. The sparsely populated Norrland encompasses almost 60% of the country.
About 15% of Sweden lies north of the Arctic Circle. Southern Sweden is predominantly agricultural, with increasing forest coverage northward. Around 65% of Sweden's total land area is covered with forests. The highest population density is in the Öresund Region in southern Sweden, along the western coast up to central Bohuslän, and in the valley of lake Mälaren and Stockholm. Gotland and Öland are Sweden's largest islands; Vänern and Vättern are its largest lakes. Vänern is the third largest in Europe, after Lake Ladoga and Lake Onega in Russia.
Climate
Most of Sweden has a temperate climate, despite its northern latitude, with four distinct seasons and mild temperatures throughout the year. The country can be divided into three types of climate; the southernmost part has an oceanic climate, the central part has a humid continental climate and the northernmost part has a subarctic climate. However, Sweden is much warmer and drier than other places at a similar latitude, and even somewhat farther south, mainly because of the Gulf Stream. For example, central and southern Sweden has much warmer winters than many parts of Russia, Canada, and the northern United States. Because of its high latitude, the length of daylight varies greatly. North of the Arctic Circle, the sun never sets for part of each summer, and it never rises for part of each winter. In the capital, Stockholm, daylight lasts for more than 18 hours in late June but only around 6 hours in late December. Sweden receives between 1,100 to 1,900 hours of sunshine annually.
Temperatures vary greatly from north to south. Southern and central parts of the country have warm summers and cold winters, with average high temperatures of 20 to 25 °C (68 to 77 °F) and lows of 12 to 15 °C (54 to 59 °F) in the summer, and average temperatures of -4 to 2 °C (25 to 36 °F) in the winter, while the northern part of the country has shorter, cooler summers and longer, colder and snowier winters, with temperatures that often drop below freezing from September through May. The highest temperature ever recorded in Sweden was 38 °C (100 °F) in Målilla in 1947, while the coldest temperature ever recorded was −52.6 °C (−62.7 °F) in Vuoggatjålme in 1966.
On average, most of Sweden receives between 500 and 800 mm (20 and 31 in) of precipitation each year, making it considerably drier than the global average. The southwestern part of the country receives more precipitation, between 1000 and 1200 mm (39 and 47 in), and some mountain areas in the north are estimated to receive up to 2000 mm (79 in). Despite northerly locations, southern and central Sweden may have almost no snow in some winters.
Swedish language / Languages of Sweden
The official language of Sweden is Swedish, a North Germanic language, related and very similar to Danish and Norwegian, but differing in pronunciation and orthography. Norwegians have little difficulty understanding Swedish, and Danes can also understand it, with slightly more difficulty than the Norwegians. The same goes for standard Swedish speakers, who find it far easier to understand Norwegian than Danish. The dialects spoken in Scania, the southernmost part of the country, are influenced by Danish because the region traditionally was a part of Denmark and is nowadays situated closely to it. Sweden Finns are Sweden's largest linguistic minority, comprising about 5% of Sweden's population, and Finnish is recognized as a minority language.
Along with Finnish, four other minority languages are also recognized: Meänkieli, Sami, Romani and Yiddish. Swedish became Sweden's official language on 1 July 2009, when a new language law was implemented. The issue of whether Swedish should be declared the official language has been raised in the past, and the Riksdag voted on the matter in 2005, but the proposal narrowly failed.
In varying degrees, depending largely on frequency of interaction with English, a majority of Swedes, especially those born after World War II, understand and speak English owing to trade links, the popularity of overseas travel, a strong Anglo-American influence and the tradition of subtitling rather than dubbing foreign television shows and films, and the relative similarity of the two languages which makes learning English easier. In a 2005 survey by Eurobarometer, 89% of Swedes reported the ability to speak English.
English became a compulsory subject for secondary school students studying natural sciences as early as 1849, and has been a compulsory subject for all Swedish students since the late 1940s. Depending on the local school authorities, English is currently a compulsory subject between first grade and ninth grade, with all students continuing in secondary school studying English for at least another year. Most students also study one and sometimes two additional languages. These include (but are not limited to) German, French and Spanish. Some Danish and Norwegian is at times also taught as part of Swedish courses for native speakers.
Economy of Sweden
Sweden is an export-oriented mixed economy. Timber, hydropower and iron ore constitute the resource base of an economy heavily oriented toward foreign trade. Sweden's engineering sector accounts for 50% of output and exports. Telecommunications, the automotive industry and the pharmaceutical industries are also of great importance. Agriculture accounts for 2% of GDP and employment. The country ranks among the highest in telephone and Internet access penetration. In 2010, Sweden had the third lowest income Gini coefficient amongst developed countries, at 0.25, slightly higher than Japan and Denmark, suggesting Sweden had low income inequality. However, Sweden's wealth Gini coefficient at 0.853 was the second highest in developed countries, and above European and North American averages, suggesting high wealth inequality. Even on disposable income basis, the geographical distribution of Gini coefficient of income inequality varies within different regions and municipalities of Sweden. Danderyd, outside Stockholm, has Sweden's highest Gini coefficient of income inequality at 0.55, while Hofors near Gävle has the lowest at 0.25. In and around Stockholm and Scania, two of the more densely populated regions of Sweden, the income Gini coefficient is between 0.35 to 0.55.
In terms of structure, the Swedish economy is characterised by a large, knowledge-intensive and export-oriented manufacturing sector, an increasing, but comparatively small, business service sector, and by international standards, a large public service sector. Large organisations both in manufacturing and services dominate the Swedish economy. High and medium-high technology manufacturing accounts for 9.9% of GDP.
Sweden's industry is overwhelmingly in private control, unlike many other industrialised Western countries and publicly owned enterprises have always been of minor importance.
Some 4.5 million residents are working, out of which around a third has tertiary education. GDP per hour worked is the world's 9th highest at 31 USD in 2006, compared to 22 USD in Spain and 35 USD in United States. GDP per hour worked is growing 2½ per cent per year for the economy as a whole and the trade-terms-balanced productivity growth is 2%. According to OECD, deregulation, globalisation, and technology sector growth have been key productivity drivers. Sweden is a world leader in privatised pensions and pension funding problems are relatively small compared to many other Western European countries.
Sweden is part of the Schengen Area and the EU single market.
The typical worker receives 40% of his or her labour costs after the tax wedge. Total tax collected by Sweden as a percentage of its GDP peaked at 52.3% in 1990. The country faced a real estate and banking crisis in 1990-1991, and consequently passed tax reforms of 1991 to implement tax rate cuts and tax base broadening over time. Since 1990, taxes as a percentage of GDP collected by Sweden has been dropping, with total tax rates for the highest income earners dropping the most. In 2010, it collected 45.8% of the country's GDP as taxes, the second highest among OECD countries and still nearly double of that in the United States or South Korea. The share of employment financed via tax income amounts to a third of Swedish workforce, a substantially higher proportion than in most other countries. Overall, GDP growth has been fast since reforms in the early 1990s, especially in manufacturing.
The World Economic Forum 2009–2010 competitiveness index ranks Sweden the 4th most competitive economy in the world. In the World Economic Forum 2010–2011 Global Competitiveness Report, Sweden climbed two positions, and is now ranked 2nd in the world. Sweden is ranked 6th in the IMD Competitiveness Yearbook 2009, scoring high in private sector efficiency. According to the book, The Flight of the Creative Class, by the U.S. economist, Professor Richard Florida of the University of Toronto, Sweden is ranked as having the best creativity in Europe for business and is predicted to become a talent magnet for the world's most purposeful workers. The book compiled an index to measure the kind of creativity it claims is most useful to business—talent, technology and tolerance.
Sweden maintains its own currency, the Swedish krona (SEK), a result of the Swedes having rejected the euro in a referendum. The Swedish Riksbank—founded in 1668 and thus making it the oldest central bank in the world—is currently focusing on price stability with an inflation target of 2%. According to the Economic Survey of Sweden 2007 by the OECD, the average inflation in Sweden has been one of the lowest among European countries since the mid-1990s, largely because of deregulation and quick utilisation of globalisation.
The largest trade flows are with Germany, the United States, Norway, the United Kingdom, Denmark and Finland.
Transport in Sweden
Sweden has 162,707 km (101,101 mi) of paved road and 1,428 km (887 mi) of expressways. Motorways run through Sweden, Denmark and over the Öresund Bridge to Stockholm, Gothenburg, Uppsala and Uddevalla. The system of motorways is still under construction and a new motorway from Uppsala to Gävle was finished on 17 October 2007. Sweden had left-hand traffic (Vänstertrafik in Swedish) from approximately 1736 and continued to do so well into the 20th century. Voters rejected right-hand traffic in 1955, but after the Riksdag passed legislation in 1963 changeover took place in 1967, known in Swedish as Dagen H.
The Stockholm metro is the only subway system in Sweden and serves the city of Stockholm via 100 stations. The rail transport market is privatized, but while there are many privately owned enterprises, many operators are still owned by state. The counties have financing, ticket and marketing responsibility for local trains. For other trains the operators handle tickets and marketing themselves. Operators include SJ, Veolia Transport, DSB, Green Cargo, Tågkompaniet and Inlandsbanan. Most of the railways are owned and operated by Trafikverket.
The largest airports include Stockholm-Arlanda Airport (16.1 million passengers in 2009) 40 km (25 mi) north of Stockholm, Gothenburg-Landvetter Airport (4.3 million passengers in 2008), and Stockholm-Skavsta Airport (2.0 million passengers). Sweden hosts the two largest port companies in Scandinavia, Port of Göteborg AB (Gothenburg) and the transnational company Copenhagen Malmö Port AB.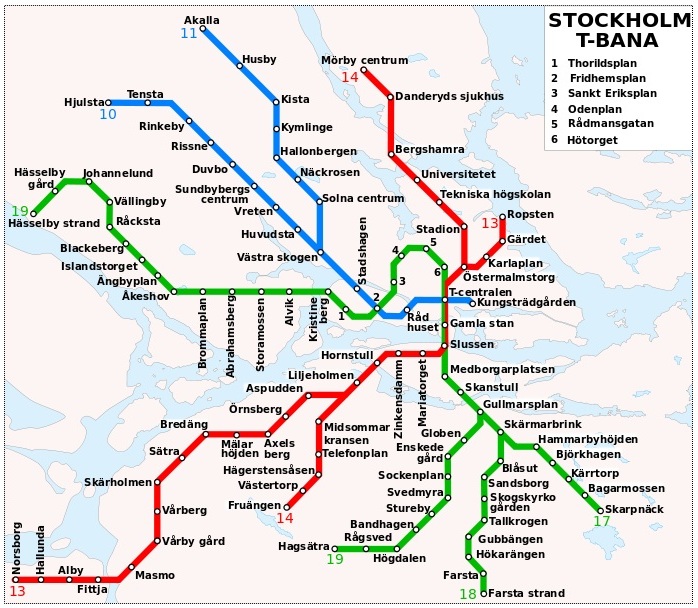 The Stockholm metro (Stockholms tunnelbana):
SL Official Site (Swedish)
Urbanrail Site (English)
Stockholm Arlanda Airport (IATA: ARN, ICAO: ESSA)
Port of Gothenburg
Gothenburg-Landvetter Airport (IATA: GOT, ICAO: ESGG)
Stockholm Skavsta Airport or Nyköping Airport (IATA: NYO, ICAO: ESKN)
Copenhagen Malmö Port
Malmö Airport
Sweden: Tourist Information Offices
Entry requirements (by Wikitravel)
Sweden is a member of the Schengen Agreement.
There are no border controls between countries that have signed and implemented the treaty – the European Union (except Bulgaria, Cyprus, Ireland, Romania and the United Kingdom), Iceland, Liechtenstein, Norway and Switzerland. Likewise, a visa granted for any Schengen member is valid in all other countries that have signed and implemented the treaty. But be careful: not all EU members have signed the Schengen treaty, and not all Schengen members are part of the European Union. This means that there may be spot customs check but no immigration checks (travelling within Schengen but to/from a non-EU country) or you may have to clear immigration but not customs (travelling within the EU but to/from a non-Schengen country).
Airports in Europe are thus divided into "Schengen" and "non-Schengen" sections, which effectively act like "domestic" and "international" sections elsewhere. If you are flying from outside Europe into one Schengen country and continuing to another, you will clear Immigration, but not Customs, at the first country and then continue to your destination where your baggage will have customs checks but there will be no further immigration controls. Travel between a Schengen member and a non-Schengen country will result in the normal border checks. Note that regardless of whether you are travelling within the Schengen area or not, many airlines will still insist on seeing your ID card or passport.
Nationals of EU and EFTA (Iceland, Liechtenstein, Norway, Switzerland) countries only need a valid national identity card or passport for entry – in no case will they need a visa for a stay of any length.
Nationals of non-EU/EFTA countries will generally need a passport for entry to a Schengen country and most will need a visa.
Only the nationals of the following non-EU/EFTA countries do not need a visa for entry into the Schengen Area: Albania*, Andorra, Antigua and Barbuda, Argentina, Australia, Bahamas, Barbados, Bosnia and Herzegovina*, Brazil, Brunei, Canada, Chile, Costa Rica, Croatia, El Salvador, Guatemala, Honduras, Israel, Japan, Macedonia*, Malaysia, Mauritius, Mexico, Monaco, Montenegro*, New Zealand, Nicaragua, Panama, Paraguay, Saint Kitts and Nevis, San Marino, Serbia*/**, Seychelles, Singapore, South Korea, Taiwan*** (Republic of China), United States, Uruguay, Vatican City, Venezuela, additionally persons holding British National (Overseas), Hong Kong SAR or Macau SAR passports.
These non-EU/EFTA visa-free visitors may not stay more than 90 days in a 180 day period in the Schengen Area as a whole and, in general, may not work during their stay (although some Schengen countries do allow certain nationalities to work – see below). The counter begins once you enter any country in the Schengen Area and is not reset by leaving a specific Schengen country for another Schengen country, or vice-versa. However, New Zealand citizens may be able to stay for more than 90 days if they only visit particular Schengen countries – see for the New Zealand Government's explanation.
If you are a non-EU/EFTA national (even if you are visa-exempt, unless you are Andorran, Monégasque or San Marinese), make sure that your passport is stamped both when you enter and leave the Schengen Area. Without an entry stamp, you may be treated as an overstayer when you try to leave the Schengen Area; without an exit stamp, you may be denied entry the next time you seek to enter the Schengen Area as you may be deemed to have overstayed on your previous visit. If you cannot obtain a passport stamp, make sure that you retain documents such as boarding passes, transport tickets and ATM slips which may help to convince border inspection staff that you have stayed in the Schengen Area legally.
Note that
– while British subjects with the right of abode in the United Kingdom and British Overseas Territories citizens connected to Gibraltar are considered "United Kingdom nationals for European Union purposes" and therefore eligible for unlimited access to the Schengen Area,
– British Overseas Territories citizens without the right of abode in the United Kingdom and British subjects without the right of abode in the United Kingdom as well as British Overseas citizens and British protected persons in general do require visas.
However, all British Overseas Territories citizens except those solely connected to the Cyprus Sovereign Base Areas are eligible for British citizenship and thereafter unlimited access to the Schengen Area.
Further note that
(*) nationals of Albania, Bosnia and Herzegovina, Macedonia, Montenegro and Serbia need a biometric passport to enjoy visa-free travel,
(**) Serbian nationals with passports issued by the Serbian Coordination Directorate (residents of Kosovo with Serbian passports) do need a visa and
(***) Taiwan nationals need their ID number to be stipulated in their passport to enjoy visa-free travel.
Citizens of the above countries are permitted to work in Sweden without the need to obtain a visa or any further authorisation for the period of their 90 day visa-free stay. However, this ability to work visa-free does not necessarily extend to other Schengen countries.
Education in Sweden
Children aged 1–5 years old are guaranteed a place in a public kindergarten (Swedish: förskola or, colloquially, dagis). Between the ages of 6 and 16, children attend compulsory comprehensive school. In the Programme for International Student Assessment (PISA), Swedish 15-year-old pupils score close to the OECD average. After completing the 9th grade, about 90% of the students continue with a three-year upper secondary school (gymnasium), which can lead to both a job qualification or entrance eligibility to university. The school system is largely financed by taxes.
The Swedish government treats public and independent schools equally by introducing education vouchers in 1992 as one of the first countries in the world after The Netherlands. Anyone can establish a for-profit school and the municipality must pay new schools the same amount as municipal schools get. School lunch is free for all students in Sweden, and providing breakfast is also encouraged.
There are a number of different universities and colleges in Sweden, the oldest and largest of which are situated in Uppsala, Lund, Gothenburg and Stockholm. As of 2000, 32% of Swedish people hold a tertiary degree, making the country 5th in the OECD in that category. Along with several other European countries, the government also subsidises tuition of international students pursuing a degree at Swedish institutions, although a recent bill passed in the Riksdag will limit this subsidy to students from EEA countries and Switzerland.
Uppsala University (Uppsala universitet)
Lund University (Lunds universitet)
The University of Gothenburg (Göteborgs universitet)
Stockholm University (Stockholms universitet)
Study in Sweden
Media in Sweden
Swedes are among the greatest consumers of newspapers in the world, and nearly every town is served by a local paper. The country's main quality morning papers are Dagens Nyheter (liberal), Göteborgs-Posten (liberal), Svenska Dagbladet (liberal conservative) and Sydsvenska Dagbladet (liberal). The two largest evening tabloids are Aftonbladet (social democratic), Expressen (liberal) and the biggest online entertainment site is Ohmygossip (in English/Swedish/Estonian/Norwegian) . The ad-financed, free international morning paper, Metro International, was originally founded in Stockholm, Sweden. The country's news is reported in English by, among others, The Local (liberal).
The public broadcasting companies held a monopoly on radio and television for a long time in Sweden. Licence funded radio broadcasts started in 1925. A second radio network was started in 1954 and a third opened 1962 in response to pirate radio stations. Non-profit community radio was allowed in 1979 and in 1993 commercial local radio started.
The licence funded television service was officially launched in 1956. A second channel, TV2, was launched in 1969. These two channels (operated by Sveriges Television since the late '70s) held a monopoly until the 1980s when cable and satellite television became available. The first Swedish language satellite service was TV3 which started broadcasting from London in 1987. It was followed by Kanal 5 in 1989 (then known as Nordic Channel) and TV4 in 1990.
In 1991 the government announced it would begin taking applications from private television companies wishing to broadcast on the terrestrial network. TV4, which had previously been broadcasting via satellite, was granted a permit and began its terrestrial broadcasts in 1992, becoming the first private channel to broadcast television content from within the country.
Around half the population are connected to cable television. Digital terrestrial television in Sweden started in 1999 and the last analogue terrestrial broadcasts were terminated in 2007.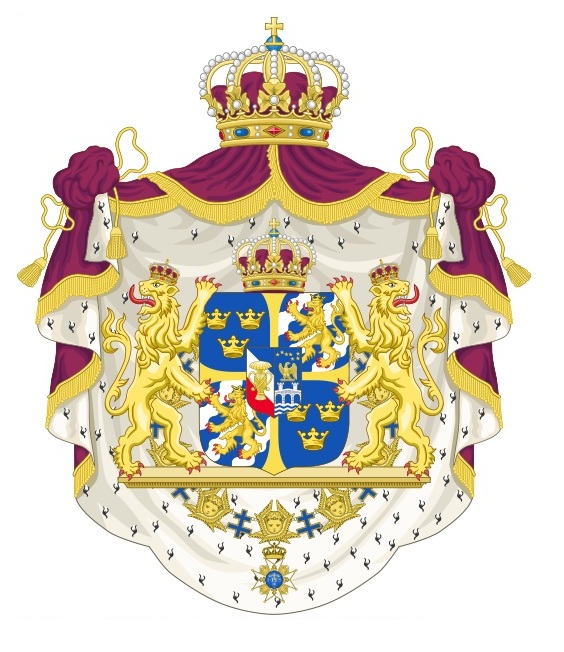 Copyright © NordenBladet
Advertisement: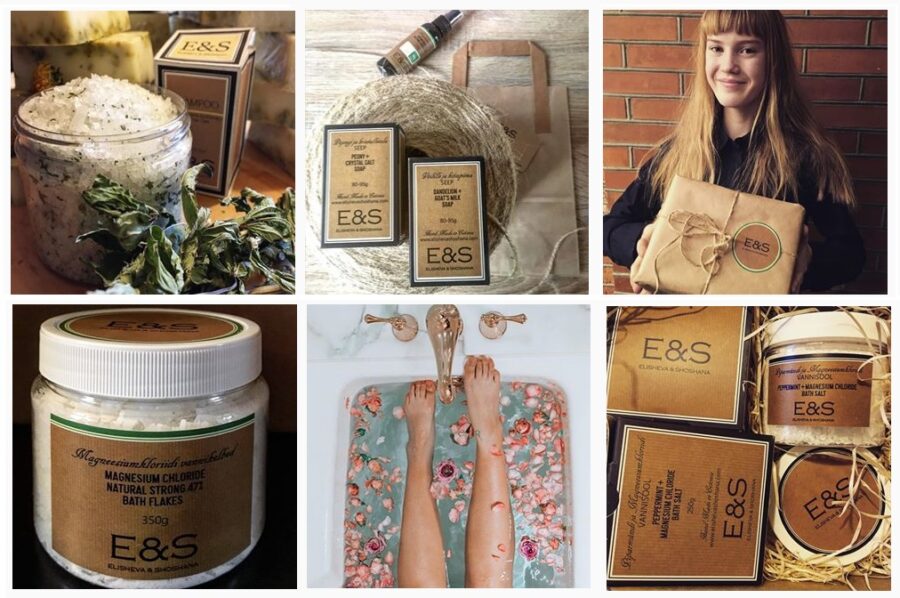 High quality & nature friendly luxury cosmetics from Scandinavia - ElishevaShoshana.com