Sweden: The Crown Princess' name day is celebrated in the Inner Courtyard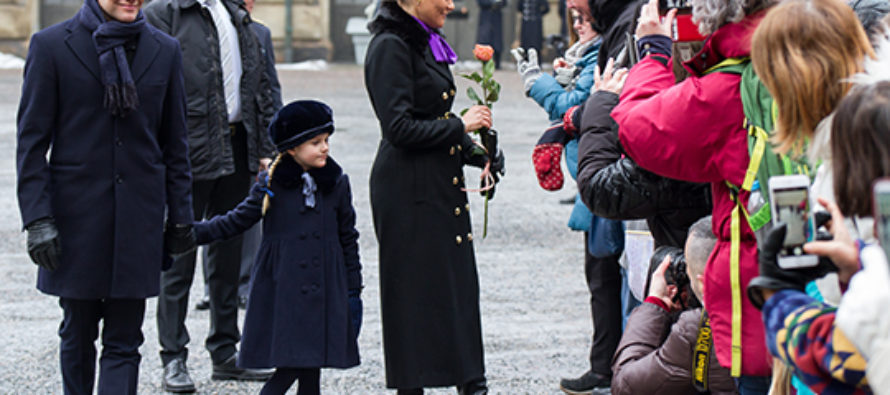 NordenBladet — On Monday 12 March, The Crown Princess' name day was celebrated in the traditional manner at the Royal Palace of Stockholm.
The celebrations began with a tribute concert by the Army Music Corps, who performed the Swedish Armed Forces' Parade March, also known as Queen Victoria's Presentation March.
This was followed by the Victoria March, which was written in the mid-1890s by Gösta Korsgren and adopted as the Västgöta Wing's march in 1986. Congratulation by Wilhelm Peterson-Berger and Crown Princess Victoria's Celebratory March, composed by the Army Music Corps' former Musical Director Mats Janhagen and first performed on The Crown Princess' 18th birthday, were also played.
The concert concluded with With A Simple Tulip and four cheers, followed by the Victoria Fanfare and the presentation of flowers by the Music Corps, the Main Guard and the Guard of Honour to The Crown Princess.
The celebrations in the Inner Courtyard concluded with The Crown Princess meeting and greeting all those who had come to take part.

Featured image: The Crown Princess is congratulated by the public during the traditional name day celebrations. (Photo: Henrik Garlöv/royalcourt.se)
Source: Swedish Royal Court
Find us also on Twitter: @NordenBladet
---
---