Helena-Reet: Estella Elisheva wished to discuss future plans + My father Jüri Ennet as head of state, if Estonia were a Kingdom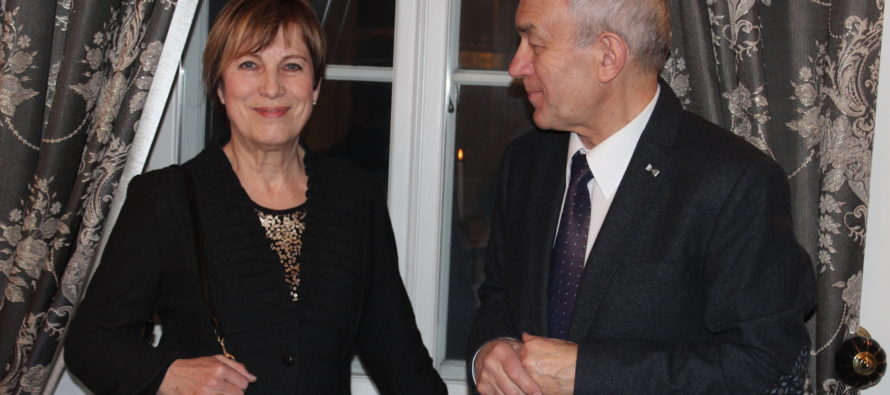 NordenBladet – Estella Elisheva returned from Saaremaa, spent 2 nights at home and now headed to the violin camp. Upon arrival from Saaremaa she announced that she would like to talk about her future plans. More specifically, she claimed she had started to like the field of psychiatry and that based on the career pattern of her grandfather she would like to become a psychiatrist as her main profession. Oh gosh! I thought… now were did that come from? Has anyone messed with my child's mind? Yet this kind of emotion was very brief. Since I do know my child Estella and I know perfectly well that she makes all her decisions herself – the girl is utterly realisitic and down to earth. Also, I have no intention to vigorously arrange her future myself – a person chooses their own path in life! More than that – psychiatry and the science and art of medicine has throughout centuries been the path of the wise and the honourable.
As a mother the first thing on my mind was actually her delicate soul. She becoming a psychiatrist – what would that entail? Estella has the world kindest heart – while sometimes it perhaps may happen that I pretend to be caring, she genuinely cares. While others perhaps seemingly do something, she does it for real – she LOVES people genuinely, more than I for example could imagine. If you are familiar with the book "Gone with the Wind" – I would draw a parallel between the characters Scarlett O´Hara and Melanie Hamilton. While I am the first one, Estella Elisheva is the other – Melania – a persons that will love the other unconditionally, a person born with a kind and loving heart ready for sacrifices. Estella is the person that will love even in the circumstances where there is no personal gain in play. Not that I haven't got a good heart or that I didn't wish well for people or that I didn't care for people or even oftentimes put others first (actually I do have a problem with that frequently, may it sound as it does – I am at times too caring and taking too much responsibility – but when it comes to Estella Elisheva then we talk completely on another level of love for the neighbour, the kind that will be accompanied by self-sacrifice and other higher standards. Estella is like that – actually, genuinely good, to the extreme. And now when she wishes to be a psychiatrist then me as a mother would of course react with fear that she could burn out very soon. My fear would be that she would be living other people's negative emotions and all the helping of others would not be through science and wisdom but through the emotions and energy.
So I told Estella that the profession of a psychiatrist is a difficult one, I have observed that with my own father. My father – a recognized and valued psychiatrist, entrepreneur, leader and politician Jüri Ennet – is a very competent, wise and intelligent man who is capable of filtering information and find solutions swiftly and promptly in every situation.
Jüri Ennet is a man that would make a good head of the state, a king if Estonia were a kingdom, he is a man that brings solutions – he loves the people, he stands for the people, he cares for our country. Having been side by side I see how he cares for our nation and how he feels for the weaker ones in the country in need of help, and most certainly his patients, and how much he does for the Estonian nation – he is a person who cares both for the common citizen as well as about the nobleman. And now I imagine my little 11-year old daughter beside him – with a heart as large as the world, and with a soul tender as a deer. Certainly it confuses me. A delicate, model-size Estella suddenly uttering these solid ideas… To be honest with you, I was not ready for that conversation.
I told her: "It will all cross your body. But since you are very sensitive, more sensitive and emotional than most people, then I am afraid it will cause problems." Estella opposed that opinion, saying that it makes her happy to help other people and that she wishes her life to have just that deeper meaning – to help people like grandfather does. In my heart I felt I was proud of my child, but it was also partly a scary and hesitant feeling. I know that from the genes of my father there will grow winners and fighters – since he certainly is among the greatest strategists, doctors and fellow men. Father presses and manages the right buttons here in Estonia as well as abroad and that cannot just pass his offsprings, children nd grandchildren. I have raised a clever child with a kind heart. I do not wish to confront any of her ideas. She will develop on her own, she will make her own choices and decisions. Since she has started to like the subject of health education at school (she tells me: "Beer is not good for you") then I have to admit that childrwn are often wiser that grownups. I do not wish to be the type of mother that children avoid talking to. I wish to be a mother that the child comes to wit ALL KINDS OF THOUGHTS.
It might be that my first born child is meant to follow the difficult but dignified and significant path of my father.
Featured image: Jüri Ennet with his wife

---