THIS IS WHY you should always remove your mascara before going to bed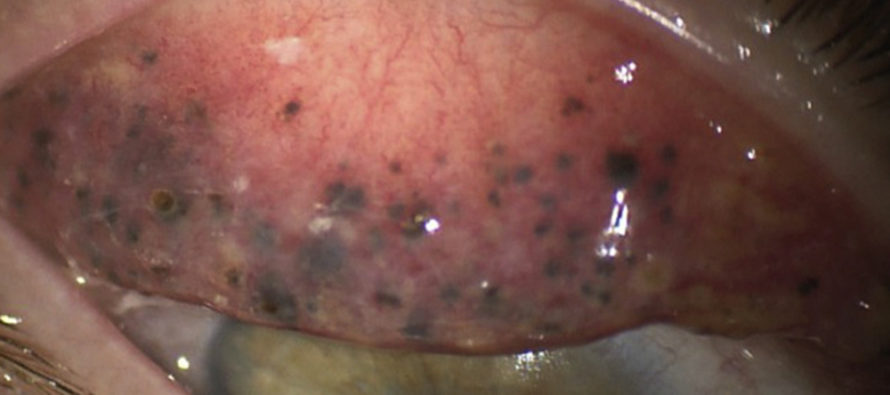 NordenBladet – Going to sleep without washing off your mascara can lead to permanent eye damage. A 50-year-old woman from Sydney, Australia, needed surgery to remove years of mascara that had built up under her eyelid and left her with permanent scarring.
Theresa Lynch went to her ophthalmologist to complain about an uncomfortable sensation in both of her eyes, the Daily Mail reported. She told Dr. Dana Robaei that she had not properly removed her eye makeup for the past 25 years.
Robaei found multiple black lumps embedded in Lynch's eyelids. The mascara she often forgot to remove had stayed in the mucus lining of her eyes and was beginning to damage her sight.
Mascara can enter your eyes very easily. Most products that promise to lengthen or enhance your lashes often contain synthetic fibres. This ingredient is known to flake off and can pose a threat to your eyes if not removed daily. Black mascara also contains oils, waxes, carbon and iron oxides that can be harmful if they come into contact with your eyeballs.
The lining that covers our eyelids is called the conjunctiva, and this mucous membrane trapped Lynch's mascara underneath her eyes. Eventually, the texture and chemicals of this product turned into hard bumps that pierced through her eyelids and started scarring her cornea.
Robaei told the Daily Mail that patients with this symptom feel their eyes are always irritated and swollen. She compared the sensation to the feeling of having dirt in your eyes. In fact, Lynch's eyes had began to form macrophages. This is an immune cell that helps the body fight off foreign organisms. In this case, these cells induced inflammation and helped destroy bacteria.
It took doctors 90 minutes of eye surgery to remove all the small black bumps, known as concretions, from Lynch's eyelids. Although they were able to remove all the lumps, she left the surgery with permanent eyelid and cornea scarring.
Robaei published a study about Lynch's case in the American Academy of Ophthalmology Journal. Lynch and Robaei told the Daily Mail that they went public with this shocking story in order to educate others.
"Not many women are treating the removal of their mascara seriously," Robaei said. "You must be meticulous."
Featured image: American Academy of Ophthalmology
---
---