Helena-Reet: Being a witness to several success stories… or on the way to unicorn company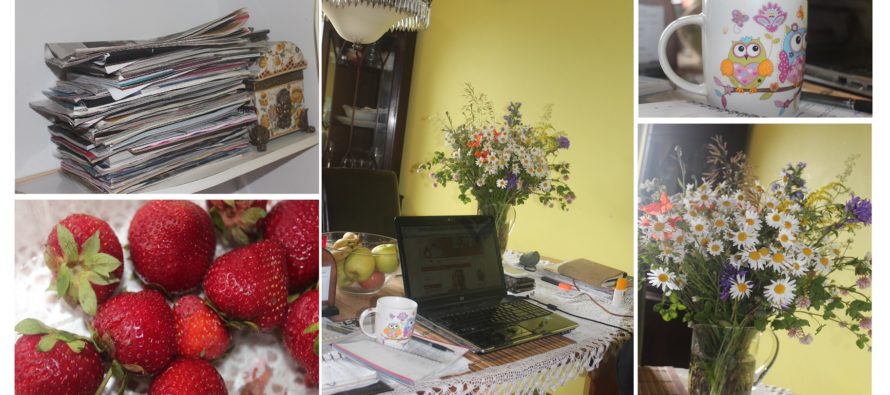 NordenBladet – Last ten years I have thought that my life is a non-stop spurt – I have been working in media (have managed the web pages of NordenBladet and OHMYGOSSIP, that are operating in 17 different countries), at the same time being active at all levels – I have written and translated news, interviewed a lot of people, visited and reflected on various trade fairs and events, organised galleries, retouched photos, designed banners, sold advertising spaces, written promotional articles, enlisted cooperation and found cooperative partners, advertised all the trademarks belonging to the brand, built, designed, developed webshops and web pages, represented all the trademarks in international trade fairs, given interviews and held conferences, given lectures, developed the social media of various brands, designed and planned a clothing and accessories brand, signed some contracts with shops and department store chains… this list is very very long!
In short, I have had 15-17-hour-long workdays, working in two computers at the same time and at a pace in and such hard to exceed. And doing all this in a way that my kids are my first priority. My timetable is set in strict compliance with my daughters' lesson plans and trainings – however, there are quite many of these recreational activities – I spend about 2-3 hours in my car every day, either as being a driver or just waiting for one hobby activity to finish in order to take my daughter(s) to the other one. The alternative would definitely be to take a driver or sign a contract with a taxi driver, but I like to drive a car – I think and plan my activities, invent new ideas, give my brain and eyes a different work. Moreover, I want to be with my children when they come from their activities and have the most powerful emotions – when they want to talk about what or how they did. I love my daughters very much, and I want them to know and feel that I am always there for them. I wish that besides the knowledge they actually felt that they are the most important ones in my life.
As you can imagine, this kind of motherliness affects children greatly. My older daughter Estella Elisheva is talented on all fronts, in everything she undertakes. She studies in Russian-speaking school (Tallinn Jewish School), thus she clearly speaks both Estonian and Russian, she already speaks English at a normal level too (it means that she can express herself well and say what she needs to say, though she could expand her vocabulary) and she also works on her Hebrew (she has studied it for 5 years). Estella has 3-7 trainings a week, depending on a week, she goes to music school, where in addition to the violin she started to take piano lessons, she plays in a band and in an orchestra. She wakes up at 6.16, and she is at school until 3 p.m., she finishes with her trainings and music school at 8 p.m., after which she studies and practises until 10 o'clock. Ivanka Shoshana, who is autistic, and was really as 5 kids in her childhood, has made great success by now. I have actively taken her to concerts, events, recreational activities – involved her in everyday life, taken care of and loved her – and it all has borne fruit! In other words, the non-stop spurt in dealing with kids and professionally.
I sometimes feel as a super-mum and super-woman, because I really do and manage to do a lot – a large part of it thanks to my careful planning. I take my time to think through what and how to do and so lay a firm foundation for all endeavours. At the moment I am also setting on foot the brand named Elisheva & Shoshana – the trademark and company I created for my daughters already years ago, aiming to do something all together, to involve Ivanka Shoshana to the activities as well, to have our own project, something totally "ours". Previous weeks I have been busy with starting up the care cosmetics brand named E&S. It is highly encouraging that people have a strong interest in this project. I have been contacted by Amazon England and likewise by dozens off boutiques all over Scandinavia. Currently, I feel like I am simultaneously thinking about several things – honestly, I do not know how it is possible. The first sales packages will be printed this week and on Saturday, when I am going to start a big trip around Finland with my daughters (read about it HERE and HERE), I can indeed already take along the first boxes of E&S products. So awesome! Everything happens at full speed and goes uphill – it is great to witness the success of several brands. Where is, there is more to come! Like clockwork! Yay.
Featured photo: On the way to unicorn company – from a tiny and simple home office (maybe even rather a one-person enterprise operating at the kitchen table) which during the years has grown into a considerable media monopoly and an internationally operating company that brings dozens of different brands together under one roof. My aim is to expand this privately owned company into a company worth a billion dollars, that is to say into a Unicorn company – as this start-up is named after a venture capitalist Aileen Lee.
---