Under current highest-level projections, almost one in three people in Sweden will be Muslim by 2050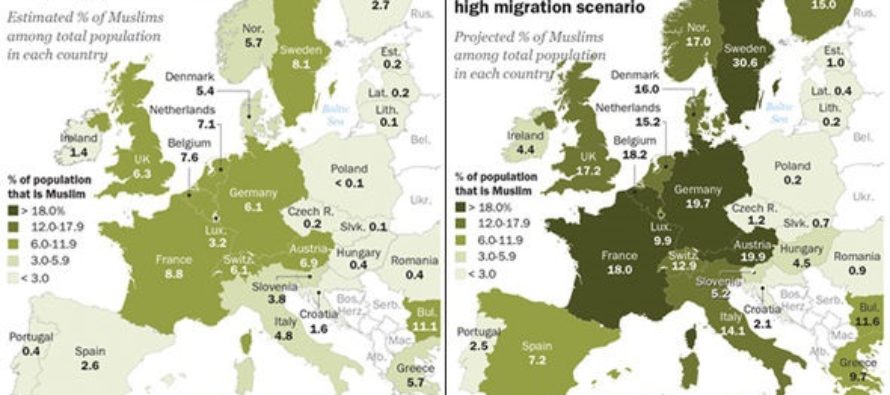 NordenBladet – The report reveals a stark east-west divide, with the Muslim share of the populations in Germany, France, Austria and Belgium expected to be at least 18 per cent of the total populations by 2050 if high migration continues. The report, Europe's Growing Muslim Population, was released by the Washington-based Pew Research Centre.

In Poland, the Muslim population, which is currently less than 0.1 per cent is expected to grow to 0.2 per cent.
Higher fertility and rates and a younger age profile mean that even if all 28 EU members, as well as Norway and Switzerland, closed their borders, the Muslim population in Europe would continue to grow in the west but remain low in Eastern Europe.
The report examined three scenarios – if migration into Europe was to stop immediately and indefinitely, if all refugee levels slow but the migration of those who come for reasons other than seeking asylum would continue, and if the flow of refugees into Europe continues indefinitely.
The report reads: "Countries that have received relatively large numbers of Muslim refugees in recent years are projected to experience the biggest changes in the high migration scenario. For instance, Germany's population (six per cent Muslim in 2016) would be projected to be about 20 per cent Muslim by 2050 in the high scenario – a reflection of the fact that Germany has accepted many Muslim refugees in recent years – compared with 11 per cent in the medium scenario and nine per cent in the zero migration scenario."
Meanwhile, Europe's non-Muslim population is expected to decline in all three scenarios, the report finds.
The fertility rate for Muslims in Europe is 2.6 per cent, compared to 1.6 for non-Muslims, while the proportion of Muslims under the age of 15 is 27 per cent, almost twice that of under-15 non-Muslims at 15 per cent.
The report also finds the UK was the top destination for immigrants to Europe between 2010 and 2016, with Britain taking in 1.6 million migrants.
Germany came in second with 1.35 million, followed by France and Italy. Interestingly, there are no Eastern European countries in the top 10.
The report concludes: "Europe's population (including both Muslims and non-Muslims) would be expected to decline considerably (from about 521 million to an estimated 482 million) without any future migration.
"In the medium migration scenario, it would remain roughly stable, while in the high migration scenario it would be projected to grow modestly."
Source: PEW RESEARCH CENTRE
---
---