Swedish billionaires: Hans Rausing (magnate), net worth 12.5 billion (2017)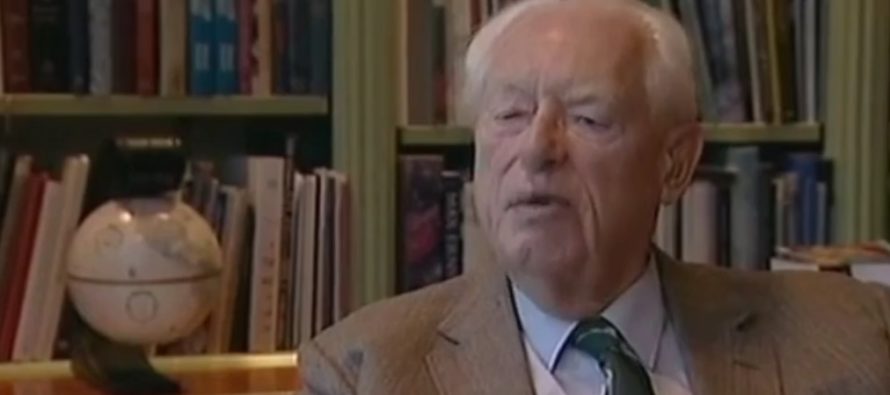 NordenBladet – Sir Hans Rausing, KBE (born 25 March 1926) is a Swedish businessman based in the United Kingdom. He made his fortune from his co-inheritance of Tetra Pak, a company founded by his father Ruben Rausing and currently the largest food packaging company in the world. In 1995 he sold his share of the company to his brother, Gad.
In the Forbes world fortune ranking, Rausing was placed at number 83 with an estimated fortune of $US10 billion in 2011. According to Forbes, he was the second richest Swedish billionaire in 2013. As of July 2017, Forbes reported his net worth as $12.5 billion. As of 17 May 2013, Bloomberg Billionaires Index estimated Rausing's net worth to be $13.3 billion.
Early life
Rausing was born in Gothenburg in 1926 as the second son to industrialist Ruben Rausing and his wife Elisabeth (née Varenius). Rausing had two brothers, Gad and Sven.
Career
Hans Rausing studied Economics, Statistics and Russian at Lund University, graduating in 1948. In 1954 Rausing was appointed Managing Director of Tetra Pak and his brother Gad Deputy Managing Director. Rausing became Chairman of the Tetra Pak board in 1985. He left the company in 1993 and sold his 50% share of the company to Gad in 1995.
Tetra Pak's success in the 1970s and 1980s has been credited to the leadership of Hans and Gad Rausing, who turned the six-person family business into a multi-national company. Over the course of his career, Rausing became a specialist in Russian affairs and has made many investments in Russia and Ukraine. He was responsible for the Tetra Pak's Russian market, and negotiated the first Tetra Pak machine export to the Soviet Union in 1959, eventually making Tetra Pak the largest foreign employer in Russia.
Patronage
Hans Rausing (92-year-old today) and his wife Märit have donated large sums to charities and research in the UK and Sweden, among others to large medical research projects at Karolinska Institutet and Lund University. Through the Märit and Hans Rausing Fund, they support local community projects in their home county of Sussex.
Through her fund Arcadia, Rausing's daughter Lisbet is financing the Hans Rausing Endangered Languages Project at the School of Oriental and African Studies (SOAS) at the University of London, the Hans Rausing Scholarship in the History of Science at King's College London, and the Hans Rausing Chair in the History of Science at Uppsala University, which is also hosting an annual Hans Rausing Lecture in the History of Science. The University of Cambridge Department of History and Philosophy of Science hosts an Annual Hans Rausing Lecture.
Honors
Hans Rausing has been appointed Doctor Honoris Causa in Medicine and Economics at Lund University. He is a visiting professor at Mälardalens Högskola, Sweden, and honorary professor at the University of Dubna, Russia. He was made a Knight Commander of the Order of the British Empire (KBE) in 2006. He is an Honorary Fellow of the Isaac Newton Institute, Cambridge, and in 2011 he was awarded the title Honorary Freeman and Liveryman at The Worshipful Company of Stationers and Newspaper Makers, London.
Personal life
Hans Rausing and his wife Märit Rausing have two daughters, Anna Lisbet Kristina Rausing (born 9 June 1960) and Sigrid Maria Elisabet Rausing (born 29 January 1962), and one son, Hans Kristian Rausing (born 15 June 1963).
Rausing has been a resident of the UK since 1982. He lives in Wadhurst, East Sussex.
List of Swedes billionaires by net worth (2017, Forbes)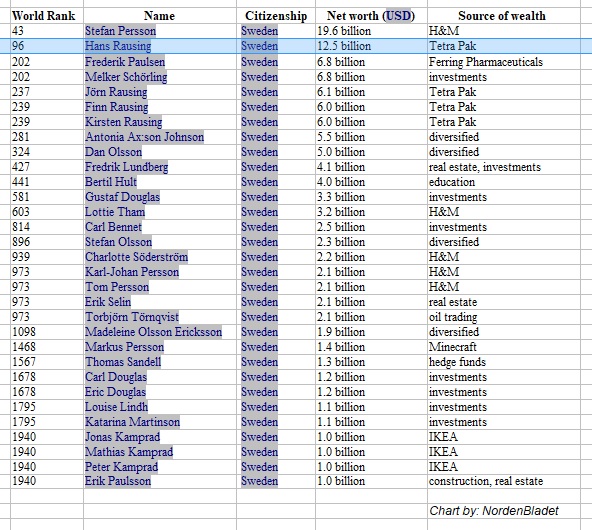 _______________________________
* A business magnate or industrialist is an entrepreneur of great influence, importance, or standing in a particular enterprise or field of business. The term characteristically refers to a wealthy entrepreneur or investor who controls, through personal business ownership or dominant shareholding position, a firm or industry whose goods or services are widely consumed. Such individuals may also be called czars, moguls, proprietors, tycoons, taipans, barons, or oligarchs.
Read also:
Helena-Reet Ennet: MY JOURNEY TOWARDS BECOMING A BILLIONAIRE or How to join the world's most elite group of people?
In the world people are desiring the status of a billionaire instead of that of a millionaire – in order to belong to the top notch you must be a billionaire. There is one billionaire for every million people in the world. In 2014 the number of billionaires increased 7% and the elite list embraced 2325 people, in 2017 according to Forbes there were 2043 billionaires. How can you become one? Lets have a wider look and dig into statistics – what does one need to become a billionaire?
Helena-Reet: 6 STEPS HOW TO get closer to success, how to enter the elite circles & how to find investors to your million-euro business plans!
How to become part of the elite* class? Whether you have an idea you want to turn into a business, a startup you need funding for, a partnership you want to secure, or a dream job you'd love to have; all of these things require getting into the winner's circle. Get to know the elite community & learn how to make important connections with influential people!
WHO ARE rich in Scandinavia? List of Nordic dollar billionaires (Forbes' 2017-edition of the world's billionaires)
According to Forbes' 2017-edition of the world's billionaires the world's richest person is still Bill Gates, with a combined wealth of almost $87 billion dollars. Biggest gainer was Amazon founder Jeff Bezos, who grew his wealth by almost $3 bn in a year. But who are wealthy in Scandinavia? The list also contains 58 people from the Nordics, more than half of them from Sweden. Meanwhile, Norway, with 14 billionaires, has one more than Finland and Denmark combined.
Swedish billionaires: Stefan Persson (magnate), net worth 19.6 billion (2017)
Carl Stefan Erling Persson (born 4 October 1947 in Bromma, Stockholm) is a Swedish business magnate*. 71-year-old Persson is the chairman and main shareholder in fashion company H&M (Hennes & Mauritz), which was founded by his father Erling Persson in 1947. Persson took over the company from his father in 1982 and served as its manager until 1998. Persson also owns a substantial stake in the Swedish technology company Hexagon AB. Through his privately held real estate company Ramsbury Invest (Drottninggatan 50, 111 21 Stockholm, Sweden), Persson owns a large number of properties in London, Paris and Stockholm.
Tags: Who is Hans Rausing, Tetra Pak, source of wealth, packaging, Ruben Rausing, Andersson, Sweden, Swedish, billionaire, billionaires, Scandinavia, rich, wealth, wealthy, affluence, entrepreneur, influencer, czar, mogul, tycoon, oligarch, Nordic countries

---
---