Food of Iceland: What is Laufabrauð and how to make it? + Recipe and VIDEOS!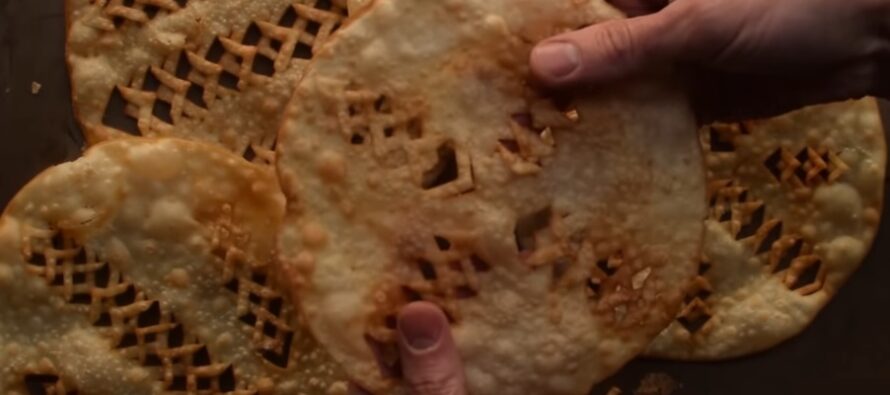 NordenBladet – Laufabrauð (Icelandic pronunciation: ​[ˈløːivaprœiθ], "leaf bread"; sometimes also called "snowflake bread" in English) is a traditional kind of Icelandic bread that is most often eaten in the Christmas season. Originating from northern Iceland but now eaten throughout the country, it consists of round, very thin flat cakes with a diameter of about 15 to 20 cm (6 to 8 inches), decorated with leaf-like, geometric patterns and fried briefly in hot fat or oil.
Laufabrauð can be bought in bakeries or made at home, either with ready-made dough or from scratch; patterns are either cut by hand or created using a heavy brass roller, the laufabrauðsjárn ("leaf bread iron"). Leaf bread making at home is usually a family undertaking and often an essential part of the Christmas preparations, where several generations gather and take part in the decorating.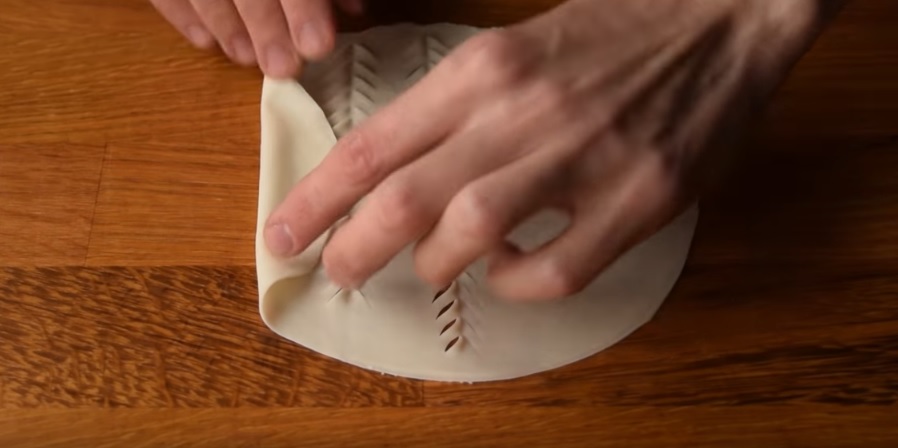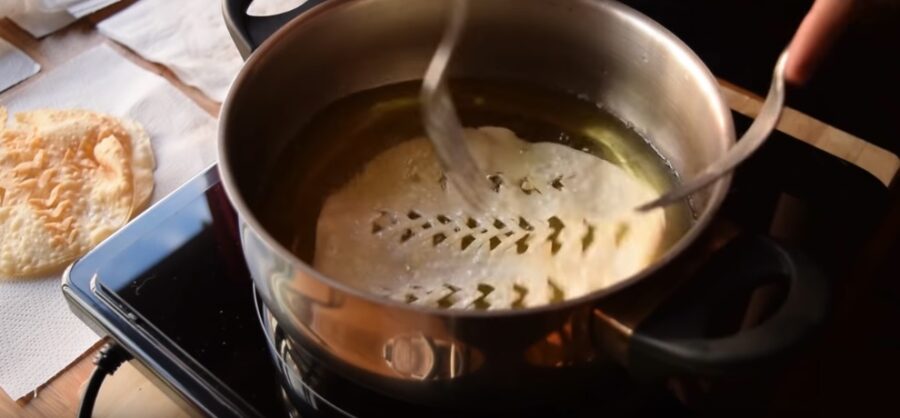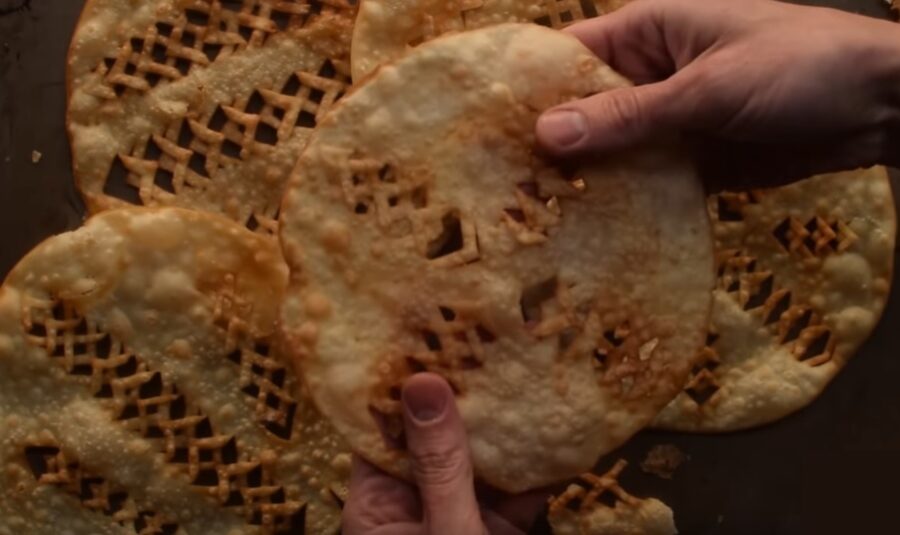 Laufabrauð. Photos: 3x NordenBladet
Many families have their own personal traditions surrounding the bread. They gather together in the beginning of December, usually on the first Sunday of Advent, and make a full day out of it. Groups of 12-15 can make several hundred cakes at a time. At the end of the day, the cakes are split evenly between all and are stored in cookie tins until Christmas. Recipes are passed down from mother to daughter and there are also designs passed down through generations.
Traditionally, this was the only time of the year when men took any part in the cooking. They would roll the dough out, which takes considerable effort because of the required thinness, and/or cut patterns into the bread with their pocketknives. Thin bread, which used to be a necessity, is now the sign of a good laufabrauð. If you can read newspaper headlines (or even the articles) through the rolled out dough, you've done it right.
Dough is kneaded by hand, rolled into a long cylinder, and wrapped, usually in a tea towel, and allowed to rest. Today, bakeries will sell pre-kneaded and cut dough that only needs to be decorated and fried, but where's the fun in that?
The dough can be made with pretty much whatever flour you'd like – regular white, whole wheat, rye, whatever. Sometimes caraway seeds are added in. Icky.
The cylinder is cut into about 40-50 pieces. They are flattened by a rolling pin as thin as they can possibly be. The dough dries out quickly and must be kept wrapped. Once a slice is cut off for decorating, the cylinder of dough is immediately wrapped up again, usually in a tea towel. Scraps and cutoffs aren't re-kneaded because they will just dry out, so they are fried and eaten as a warm treat.
A plate is placed on top of the rolled out dough and a circle is traced using a kleinuhjûl (a knife that resembles a pizza cutter). Today, the bread is usually decorated with a special knife called a laufabraudsjárn, but some families' still use pocketknives. In that case, each circle of dough is folded into a half moon and small slantwise cuts are carved into it. Once this is done, the half moon is unfolded and every other "leaf" is flipped back.
Recipe:
4 1/3 c. (1000 g) flour
¾ c. (200 g) rye flour
1 tsp. sugar
1 tsp. salt
¼ c. (50 g) butter, melted
4 1/3 c. (1 l) warm milk
Oil or fat for frying (about 1 liter)
In a large mixing bowl, combine flour, rye flour, sugar, and salt. Add melted butter, warm milk (heat it to just below the boiling point then allow to cool slightly) until you obtain a smooth dough. Flatten the dough into very thin circles, like pancakes. Decorate by cutting out patterns with a sharp knife. Using the tines of a fork, poke holes all over the dough circles (to prevent the formation of bubbles when frying). To prevent the dough from drying out before frying, stack the breads on top of one another, placing a sheet of parchment paper between each. Heat oil or fat in a deep pan until very hot (180°C). Using 2 forks to put them in oil, fry the circles of dough for about 1 minute on both sides until golden then immediately press the bread between newspaper and papertowels with a flat pot lid. Store the breads stacked in a tin box in a cool, dry place so that they don't break. Laufabrauð is traditionally eaten with hangikjöt (smoked lamb).
Laufabrauð origin.
The preparation of this bread is a tradition that originated in northern Iceland and subsequently expanded throughout the territory. The first written mention dates from the first half of the 18th century (1736). It was probably older, but there are no references to it. Today, it is an essential Christmas tradition in Iceland.
Iceland, at that time, was a country in which it was very difficult to find products such as flour, sugar, salt… especially in winter. They were considered luxury products and only accessible to the richest. In addition that most of the times they arrived with mold by the lack of interest of the merchants. Until the 18th century there was no milling equipment in the country.
The Icelanders learned how to make water mills. The problem was the grain, although it was cheaper, they had to save to be able to buy it. That is why everything made from flour was intended for special occasions. Housewives tried to stretch the dough as thin as possible to create more pieces. They said that the ideal was to be able to read the Bible through the dough. Each bread was designed with great care and affection to emphasize the importance of consuming that piece of bread.
Where Can one purchase a "Leaf-Cutting Tool" for Laufabrauð?
For many Icelanders, making laufabrauð (leaf bread) is an essential part of Christmas preparations. The art of making leaf bread is usually a family undertaking, where several generations gather and take part. Leaf-bread making traditionally requires a laufabrauðsjárn, or a leaf-bread roller, which can be purchased in, among other places, Kokka, Allt í Köku, and Brynja.
Kokka (on Laugavegur 47) offers two types of leaf-bread rollers: a 22mm roller (ISK 18,500) and a finer, 12mm roller (ISK 20,500). According to a sales representative, Kokka currently has a few leaf-bread rollers in stock; however, as many Icelanders begin preparing leaf bread in early December, they "usually go quickly this time of year."
Allt í köku (on Smiðjuvegur 9 in Kópavogur) offers three types of leaf-bread rollers: a 12mm roller (ISK 20,495), a 22mm roller for (ISK 18,495), and a 22mm roller with a custom-made wooden handle (ISK 23,995). Last year, "all the rollers sold out," (excepting those with the wooden handles).
Brynja (on Laugavegur 29) offers one type of hand-crafted leaf-bread roller (ISK 21,840). They expect the rollers to sell out in early December.
It's interesting to note that most of the rollers that the abovementioned vendors sell are produced by Handverk Haraldar. The company is owned and operated by Haraldur Guðbjartsson who is one of only a few Icelanders who manufacturers hand-made leaf-bread rollers. Haraldur acquired the company, along with the manufacturing equipment, from Ægir Björgvinsson and his wife "Didda" in 2013.
---
---
Advertisement: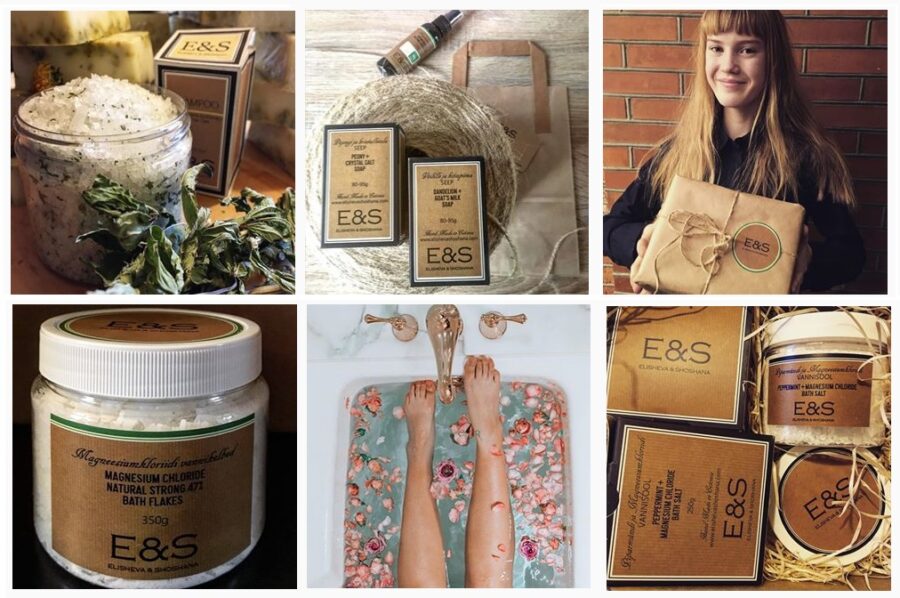 High quality & nature friendly luxury cosmetics from Scandinavia - ElishevaShoshana.com