Swedish billionaires: Melker Schörling, net worth 6.8 billion (2017)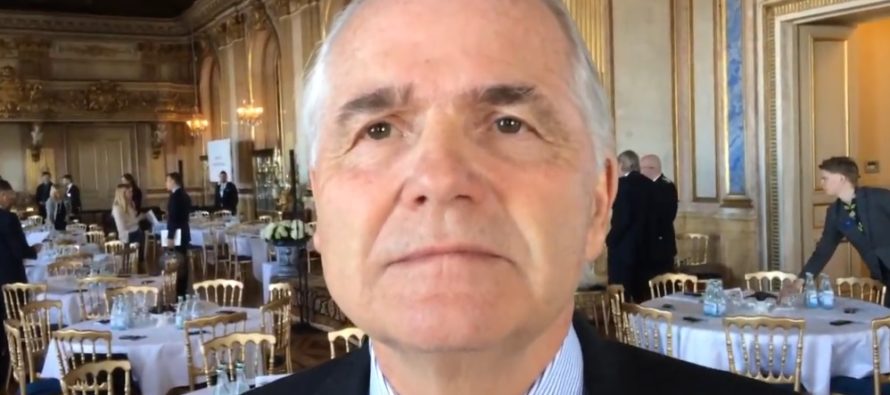 NordenBladet – Melker Schörling (born 1947) is a Swedish billionaire businessman. His investment company Melker Schörling AB (MSAB) has large interests in Securitas AB, Assa Abloy, Hexagon AB, Loomis and more. Schörling formed a partnership with fellow billionaire Gustaf Douglas, who is also a major shareholder in Securitas and Assa Abloy.
Early life
Melker Schörling is a graduate of the School of Business, Economics and Law, Gothenburg.
Career
Today 71-year-old Schörling made a name for himself as the CEO of Securitas in 1987 before moving on to Skanska, when Percy Barnevik was chair. Schörling later left his executive career to focus on his own investments.
In August 2006, Schörling revealed that he would take MSAB public, listing it on the Stockholm Stock Exchange. He also unveiled a new board of directors. The new board, one of the most high-profile in the Swedish business world, includes Stefan Persson, Carl-Henric Svanberg, and Schörling's daughter.
As of January 2015, he is worth $6.5 billion according to Forbes and by September 2017 6.8 billion.
Personal life
He is married to Kerstin Schörling, has two children (Sofia Schorling Hogberg, Marta Schorling), and lives in Stockholm.
Swedish billionaires: Frederik Paulsen Jr, net worth 6.8 billion (2017)
List of Swedes billionaires by net worth (2017, Forbes)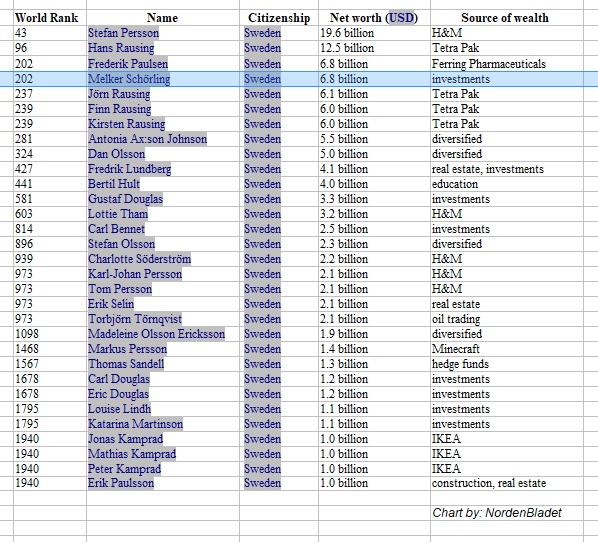 Read also:
Helena-Reet Ennet: MY JOURNEY TOWARDS BECOMING A BILLIONAIRE or How to join the world's most elite group of people?
In the world people are desiring the status of a billionaire instead of that of a millionaire – in order to belong to the top notch you must be a billionaire. There is one billionaire for every million people in the world. In 2014 the number of billionaires increased 7% and the elite list embraced 2325 people, in 2017 according to Forbes there were 2043 billionaires. How can you become one? Lets have a wider look and dig into statistics – what does one need to become a billionaire?
Helena-Reet: 6 STEPS HOW TO get closer to success, how to enter the elite circles & how to find investors to your million-euro business plans!
How to become part of the elite* class? Whether you have an idea you want to turn into a business, a startup you need funding for, a partnership you want to secure, or a dream job you'd love to have; all of these things require getting into the winner's circle. Get to know the elite community & learn how to make important connections with influential people!
WHO ARE rich in Scandinavia? List of Nordic dollar billionaires (Forbes' 2017-edition of the world's billionaires)
According to Forbes' 2017-edition of the world's billionaires the world's richest person is still Bill Gates, with a combined wealth of almost $87 billion dollars. Biggest gainer was Amazon founder Jeff Bezos, who grew his wealth by almost $3 bn in a year. But who are wealthy in Scandinavia? The list also contains 58 people from the Nordics, more than half of them from Sweden. Meanwhile, Norway, with 14 billionaires, has one more than Finland and Denmark combined.
Swedish billionaires: Stefan Persson (magnate), net worth 19.6 billion (2017)
Carl Stefan Erling Persson (born 4 October 1947 in Bromma, Stockholm) is a Swedish business magnate*. 71-year-old Persson is the chairman and main shareholder in fashion company H&M (Hennes & Mauritz), which was founded by his father Erling Persson in 1947. Persson took over the company from his father in 1982 and served as its manager until 1998. Persson also owns a substantial stake in the Swedish technology company Hexagon AB. Through his privately held real estate company Ramsbury Invest (Drottninggatan 50, 111 21 Stockholm, Sweden), Persson owns a large number of properties in London, Paris and Stockholm.
Swedish billionaires: Hans Rausing (magnate), net worth 12.5 billion (2017)
Sir Hans Rausing, KBE (born 25 March 1926) is a Swedish businessman based in the United Kingdom. He made his fortune from his co-inheritance of Tetra Pak, a company founded by his father Ruben Rausing and currently the largest food packaging company in the world. In 1995 he sold his share of the company to his brother, Gad.
Swedish billionaires: Frederik Paulsen Jr, net worth 6.8 billion (2017)
Frederik Paulsen is a Swedish billionaire and businessman, chairman of Ferring Pharmaceuticals. Frederik Dag Arfst Paulsen was born on 30 October 1950 in Stockholm, Sweden. His father was Frederik Paulsen Sr, the founder of Ferring Pharmaceuticals. Frederik Paulsen grew up in Sweden, with his father and his father's second wife, Eva Wolf Frandsen – one of the founding researchers at Ferring. He attended school in Sweden and then went on to study chemistry at the Christian Albrecht University in Kiel, Germany and business administration at Lund University in Sweden.
Tags: Who is Melker Schörling, source of wealth, Securitas AB, Assa Abloy, Hexagon AB, Loomis, Sweden, Swedish, billionaire, billionaires, Scandinavia, rich, wealth, wealthy, affluence, entrepreneur, influencer, czar, mogul, tycoon, oligarch, Nordic countries
Featured image: Melker Schörling (NordenBladet)

---
---
Advertisement: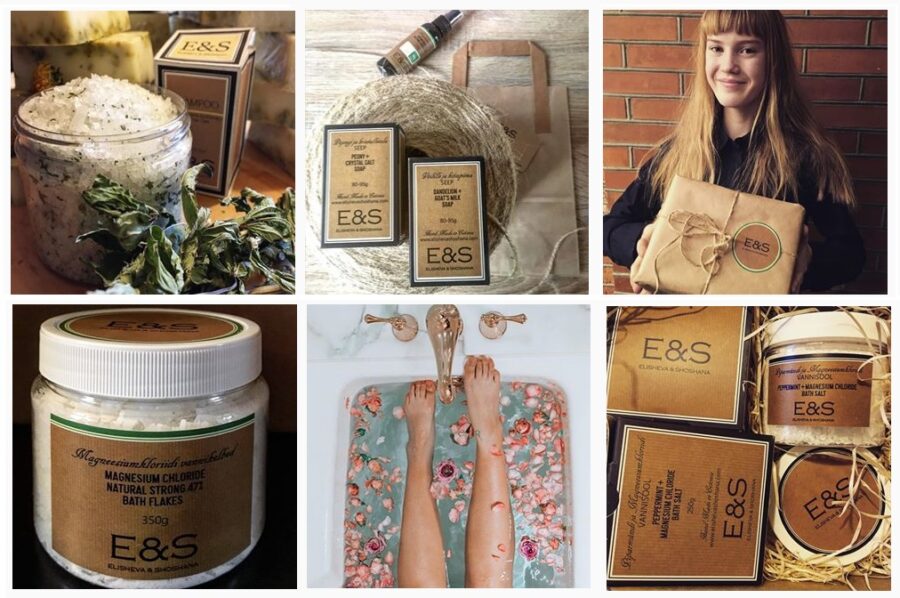 High quality & nature friendly luxury cosmetics from Scandinavia - ElishevaShoshana.com