Helena-Reet: A Course on Preparing Ointments at the School of Traditional Wisdom and Folk Healing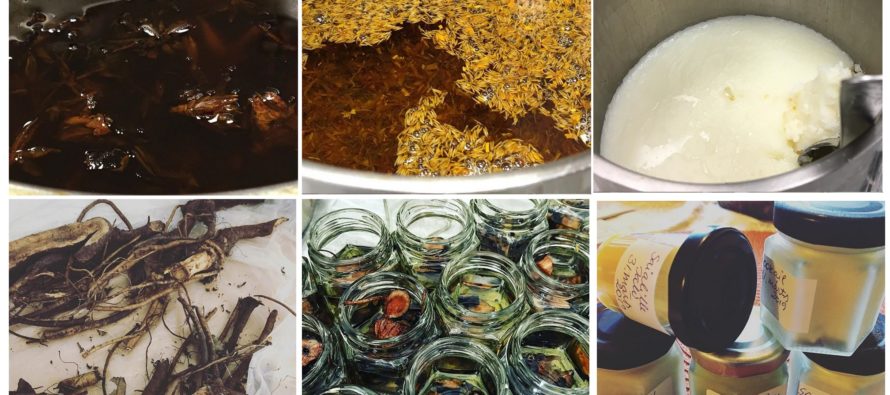 NordenBladet – While long ago every corner and every village had its own healer who treated people's wounds and gout with ointments, oils and herbal elixirs and who skillfully prepared herbal tea, then today people know less and less of this craft. "Hamburgers are being eaten and a handful of medicine administered on top of that" – I'd hereby quote the hostess of Karepa Herbal Garden, Katrin Luke, whose course on preparing herbal ointments I recently completed.
My grandma from the father's line was an expert herbalist and great nature lover – against every ailment there was cure to be found in the nature. From very early on grandma took us kids along into the forests and to the meadows and introduced to us various plants. And it wasn't rare when friends from school came to visit and she offered us nettle soup or herbal pie and I used to be ashamed of this from head to toe. Now however I long for those days and I feel that there would be so much I still wished to ask her, but sadly it is not possible anymore.
I live in the countryside near the town and for 5-6 years I have been studying herbs with close attention as well as growing and collecting them from my garden, from the forests and from the meadows. Earlier on I have repeatedly posted blogs about gathering herbs, but the golden rule is that you should only gather the plants that you know 100%, and only from the unpolluted nature and with a big heart – never rip the plants out carelessly nor exhaust the plant completely from the selected spot. When I am about to gather herbs I ask permission from the Earth, I talk to plants and afterwards I thank the Earth for its gifts. There is nothing more pleasant than having a cup of herbal tea from plants that you have gathered yourself, or retrieving from the freezer frozen organic food stored during the summer. A great acknowledgement for me is also when people come to visit and ask for a cup of herbal mix tea. There is cure in herbal tea against a hundred ailments – mostly these being depression, common cold, sleep problems, liver problems, joint problems, yet I also have a recipe for unlucky love and against trouble with sexual function. People sometimes ask whether it actually works? And they will be convinced that it does!
Earlier I have also prepared healing tinctures and healing oils and I also use herbs and tinctures in Elisheva & Shoshana (E&S) soaps and bathing salts, yet the preparation of ointments is something I will be doing anew. I am really excited and there are so many ideas about healing recipes already ripening in my head! Preparation of salves is actually uncomplicated in itself, yet one must have a solid base in the knowledge of herbs (naturally one must not mistake the poisonous plants for medical herbs based on similar looks). Also, you must be patient – you must collect the herbs beforehand and the preparation/boiling of salves requires precision and time.
For fans of nature and herbs the School of Traditional Wisdom and Folk Healing created an interesting course named "Preparation of Healing Ointments", a course which I completed this Sunday. The course was carried out by Katrin Luke who has studied herbal medicine (phytotherapy) in Tallinn School of Alternate Medicine and who manages Karepa Garden of Medical Herbs. It was a great course!
During the course four great products were prepared: Natural spruce resin ointment, Marsh Labrador (Rhododendron tomentosum) salve, Calendula ointment and Symphytum root (Symphytum officinale) oil. During tea breaks the participants were offered barley bread (Karask – barley bread is traditional Estonian food) with Ramsons (Allium ursinum L.) herbal butter, Filipendula syrup, Jerusalem artichoke chips, rose jam and other pleasant things.
I guess that from early on children should be taught phytotherapy and herbs. As for myself, I set the goal to introduce to my own children all the plants one by one with the opportunities of use.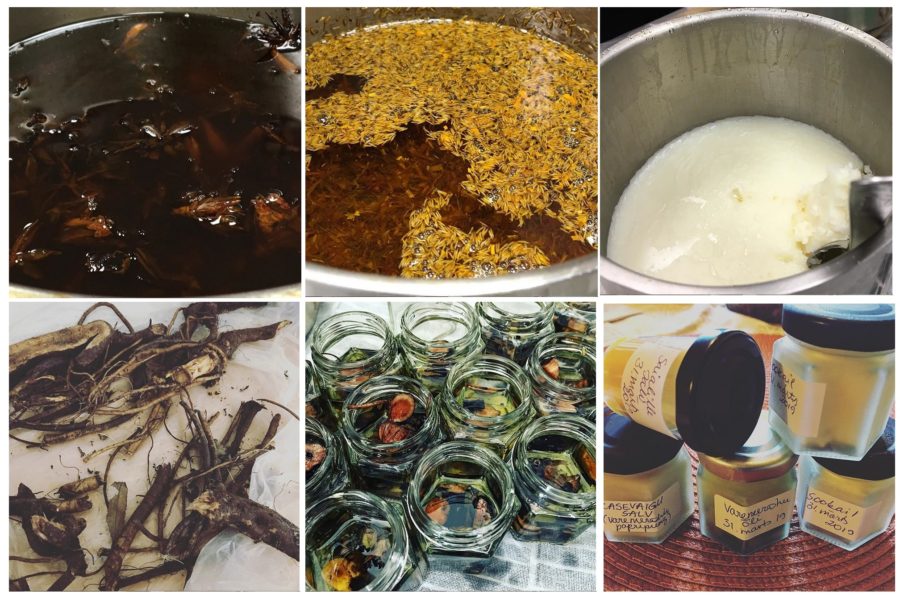 ---
---
Advertisement: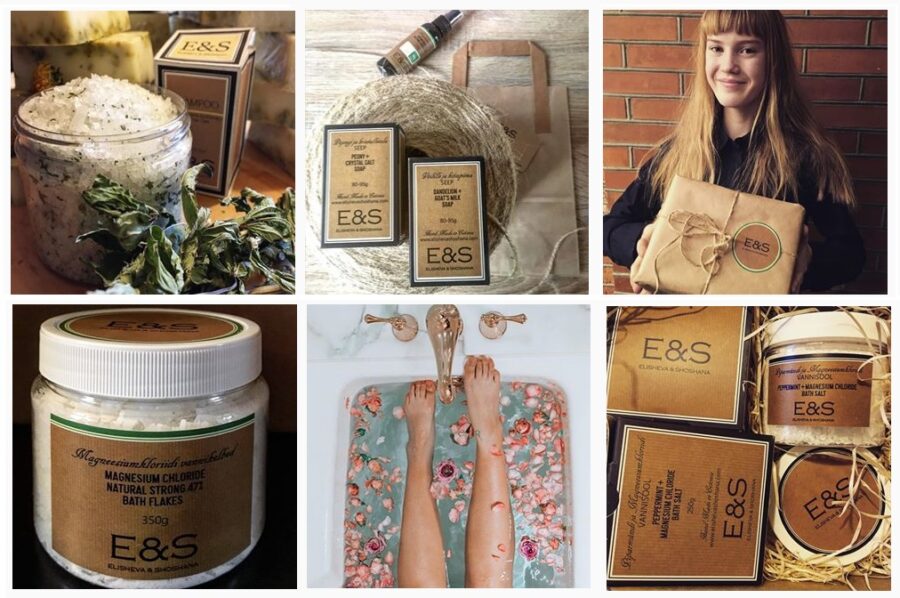 High quality & nature friendly luxury cosmetics from Scandinavia - ElishevaShoshana.com