Top 10 Richest People of Sweden 2017 (by Veckans Affärer) + FULL LIST of Sweden´s 184 billionaires in 2017!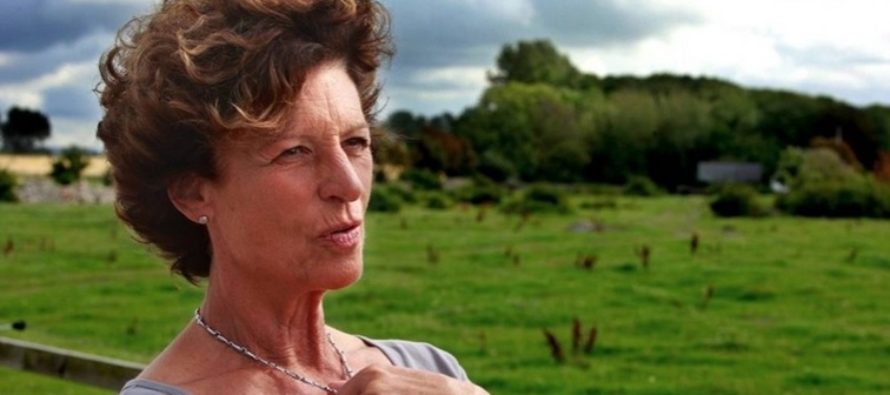 NordenBladet – Swedish business magazine Veckans Affärer each year compiles a list of the country's billionaires in Swedish krona (1 billion SEK equals roughly $120 million USD). There was a record 187 Swedish billionaires in 2018 – double the amount since 2002 – of which around 40 have amassed fortunes exceeding a billion dollars.

However, the very top largely belongs to the founding families of iconic Swedish companies like Stena Group, Ikea, H&M and Tetra Laval – all founded between 1939 and 1951.
Here are the top ten richest people of Sweden and how they made their money.
1. IKEA founder Ingvar Kamprad ($73 billion) is unmatched
Net Worth: 620 billion SEK ($73 billion)
Company: IKEA (furniture giant)
Residence: Älmhult, Sweden
Ikea's 91-year old founder Ingvar Kamprad has topped the Swedish rich list for the last decades. He's worth more than the seven people behind him, combined. Kamprad – known for driving a two-decade old Volvo and flying coach – started with nothing back in 1943 and is now considered Sweden's most successful entrepreneur of all time.
2. Stefan Persson
Net Worth: 186 billion SEK ($22 billion)
Company: H&M (clothing retailer)
Residence: Stockholm
Global retail chain H&M's family patriarch Stefan Persson is Sweden's second-richest. Before growing H&M into a global fashion empire, his father, Erling Persson, opened the first store in 1947, expanded in Sweden, and took the company public. Stefan Persson estimated net worth is US $ 22 billion and he is ranked second in the list of top 10 richest people of Sweden.
3. Hans Rausing
Net Worth: 101 billion SEK ($12 billion)
Company: Tetra Laval, packaging
Residence: Wadhurst, UK
Hans Rausing's is the inherited billionaire and the owner of the packaging giant Tetra Laval which is established by his father in 1944. He moved to UK in the early 1980s to avoid the penalizing of Swedish taxes and sold his share to his brother Gad for an estimated worth of US $ 7 billion in 1995. He now resides in the 900 acre estate in the village of Wadhurst in East Sussex where he breeds deer and wild boar. He also owns the property in New Zealand and homes in London and Barbados, and has venture in "Ecolean" which is the producer of environmentally friendly packaging material. Hans Rausing estimated net worth is US $ 12 billion and he is ranked third in the list of top 10 richest people of Sweden.
4. Frederik Paulsen
Net Worth: 60 billion SEK ($7,1 bn)
Company: Ferring Pharma
Residence: Lausanne, Switzerland
Frederick Paulsen is inherited of the small drug maker "Ferring Pharmaceuticals" which is founded by his father and when he takes charge of the business in 1983, it generated US $ 15 million in annual revenues. Today his biotech unit produces the obstetrics, infertility, gastroenterology, urology and endocrinology products and has estimated sales of more than US $ 1.75 billion. He is also structured the fecundity clinics in Russia to help reverse its drastic population decline. He also donates US $ 3 million to the kingdom of Bhutan for the big collection of textile to bolster its new Royal Textile Academy. Frederik Paulsen estimated net worth is US $ 7.1 billion and he is ranked at No. 4 in the list of top 10 richest people of Sweden.
5. Jörn Rausing
Net Worth: 59 billion SEK ($7 bn)
Company: Tetra Laval (packaging)
Residence: Surrey, UK
Jorn Rausing is the owner of the "Tetra Laval" the company behinds the ­packaging technology of tetra pack that makes it possible to store beverages like Juice, milk and other liquid flavors in cartons instead of glass bottles. Jorn with his two siblings Kirsten and Finn shared the family business and sit on the board of "Tetra Laval" which is the parent company established by their grandfather. He also owns the stakes in online grocery vendor "Ocado". Jorn Rausing estimated net worth is US $ 7 billion and he is ranked at No. 5 in the list of top 10 richest people of Sweden.
6. Melker Schorling
Net Worth: 59 billion SEK ($7 bn)
Company: MSAB (investments)
Residence: Stockholm
Melker Schorling set the foundation for his wealth by negotiating with his associate billionaire Gustaf Douglas and receives the stakes in troubled security services giant "Securitas" in return for accepting the job of CEO in 1987. Later he established the "Melker Schorling AB" as the holding company for his investments which is now publicly traded and holds the stakes in precision and measuring tools manufacturing "Hexagon" and security device manufacturer "Assa Abloy" and counts H&M billionaires Stefan Persson and his sister Lottie Tham are the shareholders of his empire. Melker Schorling estimated net worth is US $ 7 billion and he is ranked at No. 6 in the list of top 10 richest people of Sweden.
7. Antonia Johnson
Net Worth: 57 billion SEK ($6,75 bn)
Residence: Upplands Väsby, Sweden
Company: Axel Johnson AB which fully owns Kicks, Martin & Servera, Åhléns and hold shares in Axfood and Sweden's largest e-commerce company, Dustin.
Antonia Johnson is the Sweden's richest woman and she is the fourth generation to run the family conglomerate and preparing her daughter Carina Berg to take over the family business in future. She is elected to the board and then becomes the chairman of the privately owned diversified trading company in 1982 and keeps both seats on the board, and all of the ownership. The family conglomerate has interests in telecom, security, energy, real estate and in industrial products. She also holds 50 percent stakes in the Axfood AB which is the largest food companies in Scandinavia. Antonia Johnson estimated net worth is US $ 6.75 billion and she is ranked at No. 7 in the list of top 10 richest people of Sweden.
8. Finn Rausing
Net Worth: 57 billion SEK ($6,75 bn)
Residence: Stockholm
Company: Tetra Laval
Finn Rausing is sits on the board of packaging company Tetra Laval with his billionaire siblings Kirsten and Jorn which is established by their grandfather and invented ­the packaging technology that makes it possible to store beverages like milk and juice without refrigeration. His father Gad bought out his brother Hans shares of Tetra Laval and becomes the single owner of the tetra packing empire. Finn Rausing estimated net worth is US $ 6.75 billion and he is ranked at No. 8 in the list of top 10 richest people of Sweden.
9. Kirsten Rausing
Net Worth: 60 billion SEK ($7,1 bn)
Company: Tetra Laval
Residence: Newmarket, UK
Kristen Rausing is the third partner of the packaging company "Tetra Laval" and sits on the board with her two brothers Finn and Jorn. Their grandfather established the Tetra Laval which invented the aseptic ­packaging technology that makes it possible to store beverages like milk and juice in tetra pack bags instead of glass bottles. Their late father Gad runs the company for 46 years together with his brother Hans and later he bought it all in 1995. Kirsten Rausing estimated net worth is US $ 7.1 billion and she is ranked at No. 9 in the list of top 10 richest people of Sweden.
10. Ane Uggla ($6,5 bn): Heir to a Danish shipping empire
Net Worth: 55 billion SEK ($6,5 bn)
Residence: Stockholm
Source of wealth: A.P. Møller-Mærsk (shipping)
Heir to Denmark's largest company, shipping giant A.P. Møller-Mærsk. The 69-year old's son, Robert Maersk Uggla, is nowadays in charge of the Maersk's holding company. Ane Uggla, who's lived in Stockholm since the 1970s is today Sweden's second-richest woman. Ane Uggla estimated net worth is US $ 6.5 billion and she is ranked at No. 10 in the list of top 10 richest people of Sweden.
FULL LIST of Sweden´s 184 billionaires in 2017
1. Ingvar Kamprad
2. Stefan Persson
3. Hans Rausing
4. Frederik Paulsen
5. Jörn Rausing
6. Melker Schörling
7. Antonia Ax:son Johnson
8. Finn Rausing
9. Kirsten Rausing
10. Ane Uggla
11. Dan Sten Olsson
12. Fredrik Lundberg
13. Bertil Hult
14. Gustaf Douglas
15. Carl Bennet
16. Liselott Tham
17. Stefan Olsson
18. Markus Persson
19. Torbjörn Törnqvist
20. Karl-Johan Persson
21. Tom Persson
22. Charlotte Söderström
23. Daniel Ek
24. Martin Lorentzon
25. Madeleine Olsson-Eriksson
26. Erik Selin
27. Eric Douglas
28. Carl Douglas
29. Thomas Sandell
30. Niklas Zennström
31. Sten Åke Lindholm
32. Katarina Martinson
33. Louise Lindh
34. Erik Paulsson
35. Rune Andersson
36. Mathias Kamprad
37. Jonas Kamprad
38. Peter Kamprad
39. Elisabeth Douglas
40. Ian Lundin
41. Hans Wallenstam
42. Karl-Johan Blank
43. Sven-Olof Johansson
44. Christer Gardell
45. Lukas Lundin
46. Nico Mordasini
47. Mona Hamilton
48. Eva Lundin
49. Cristina Stenbeck
50. Johan Eliasch
51. Rutger Arnhult
52. Rolf Lundström
53. Jonas af Jochnick
54. Robert Weil
55. Sven Norfeldt
56. Margareta Wallenius-Kleberg
57. David Mindus
58. Sten Mörtstedt
59. Jakob Porsér
60. Jenny Lindén Urnes
61. Dan Olofsson
62. Christer Brandberg
63. Johan Claesson
64. Lars-Magnus Claesson
65. Björn Savén
66. Patrik Brummer
67. Bengt Ågerup
68. Bengt Bengtsson
69. Gerald Engström
70. Fredrik Wester
71. Fredrik Paulsson
72. Stina Von Der Esch
73. Felix Hagnö
74. Mikael Ståhl
75. Bicky Chakraborty
76. Sebastian Knutsson
77. Lars Wingefors
78. Erik Penser
79. Sven Hagströmer
80. Robert af Jochnick
81. Martin Gren
82. Gerard de Geer
83. Martin Andersson
84. Sophie Stenbeck
85. Hugo Stenbeck
86. Fredrik Rapp
87. Eva Hamrén
88. Hans-Kristian Rausing
89. Sigrid Rausing
90. Per Josefsson
91. Peter Thelin
92. Annika Bootsman Kleberg
93. Jonas Kleberg
94. Jan Bengtsson
95. Lisbet Rausing
96. Per Sandberg
97. Lars Markgren
98. Mats Qviberg
99. Staffan Salén
100. Karl Perlhagen
101. Karl Hedin
102. Nils Tham
103. Carl Tham
104. Lina Tham von Heidenstam
105. Rikard Svensson
106. Fredrik Svensson
107. Max Martin
108. Anders Bodin
109. Erik Ryd
110. Torbjörn Bäck
111. Thomas Karlsson
112. Patrik Hannell
113. Laurent Leksell
114. Jens von Bahr
115. Fredrik Österberg
116. Victor Jacobsson
117. Sebastian Siemiatkowski
118. Niklas Adalberth
119. Åke Bonnier
120. Gösta Welandson
121. Gert-Erik Lindquist
122. Nils-Olov Jönsson
123. Ulf Eklöf
124. Stefan Bengtsson
125. Pontus Bonnier
126. Agneta Wallenstam
127. Harald Mix
128. Joakim Alm
129. Robert Andreen
130. Bo Larsson
131. Carl Manneh
132. Bo Göransson
133. Conni Jonsson
134. Michael Knutsson
135. Fredrik Palmstierna
136. Anders Berntsson
137. Benny Andersson
138. Pär Sandå
139. Leif Gustavsson
140. Ludvig Strigeus
141 Dag Landvik
142. Anders Ström
143. Bengt Hjelm
144. Peter Lindell
145. Anders Forsgren
146. Bengt-Olov Forssell
147. Per Hamberg
148. Filip Engelbert
149. Jonas Nordlander
150. Anna Benjamin
151. Björn Ulvaeus
152. Fabienne Gustafsson
153. Hampus Ericsson
154. Sven Philip-Sörensen
155. Martin Nordin
156. Karl Otto Bonnier
157. Carl-Henric Svanberg
158. Patrik Wahlén
159. Torsten Jansson
160. Claes Mellgren
161. Per Olof Andersson
162. Anita Paulsson
163. Henrik Persson Ekdahl
164. Thomas Eldered
165. Petter Fägersten
166. Zlatan Ibrahimovic
167. Patrik Stymne
168. Staffan Persson
169. Johan Löf
170. Mats Paulsson
171. Helena Ek Tidstrand
172. Eva Bonnier
173. Jan Erik Ragnar Söderberg
174. Per-Olof Söderberg
175. Bo Jesper Hansen
176. Johan Edlund
177. Thomas Hartwig
178. Filip Tysander
179. Elisabeth Jancke Brandberg
180. Leif Kristensson
181. Lennart Grebelius
182. Henric Wiman
183. Gun Boström
184. Max Hansson
Look also Forbes List of Swedes billionaires by net worth (2017, Forbes)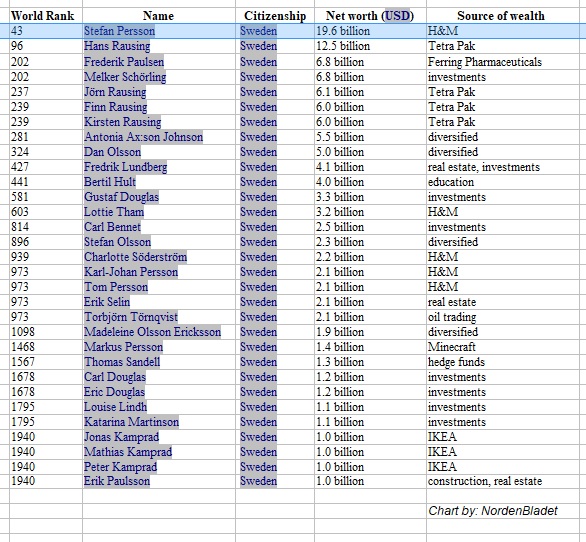 _______________________________
* A business magnate or industrialist is an entrepreneur of great influence, importance, or standing in a particular enterprise or field of business. The term characteristically refers to a wealthy entrepreneur or investor who controls, through personal business ownership or dominant shareholding position, a firm or industry whose goods or services are widely consumed. Such individuals may also be called czars, moguls, proprietors, tycoons, taipans, barons, or oligarchs.
Read also:
Helena-Reet Ennet: MY JOURNEY TOWARDS BECOMING A BILLIONAIRE or How to join the world's most elite group of people?
In the world people are desiring the status of a billionaire instead of that of a millionaire – in order to belong to the top notch you must be a billionaire. There is one billionaire for every million people in the world. In 2014 the number of billionaires increased 7% and the elite list embraced 2325 people, in 2017 according to Forbes there were 2043 billionaires. How can you become one? Lets have a wider look and dig into statistics – what does one need to become a billionaire?
Helena-Reet: 6 STEPS HOW TO get closer to success, how to enter the elite circles & how to find investors to your million-euro business plans!
How to become part of the elite* class? Whether you have an idea you want to turn into a business, a startup you need funding for, a partnership you want to secure, or a dream job you'd love to have; all of these things require getting into the winner's circle. Get to know the elite community & learn how to make important connections with influential people!
WHO ARE rich in Scandinavia? List of Nordic dollar billionaires (Forbes' 2017-edition of the world's billionaires)
According to Forbes' 2017-edition of the world's billionaires the world's richest person is still Bill Gates, with a combined wealth of almost $87 billion dollars. Biggest gainer was Amazon founder Jeff Bezos, who grew his wealth by almost $3 bn in a year. But who are wealthy in Scandinavia? The list also contains 58 people from the Nordics, more than half of them from Sweden. Meanwhile, Norway, with 14 billionaires, has one more than Finland and Denmark combined.
Swedish billionaires: Stefan Persson (magnate), net worth 19.6 billion (2017)
Carl Stefan Erling Persson (born 4 October 1947 in Bromma, Stockholm) is a Swedish business magnate*. 71-year-old Persson is the chairman and main shareholder in fashion company H&M (Hennes & Mauritz), which was founded by his father Erling Persson in 1947. Persson took over the company from his father in 1982 and served as its manager until 1998. Persson also owns a substantial stake in the Swedish technology company Hexagon AB. Through his privately held real estate company Ramsbury Invest (Drottninggatan 50, 111 21 Stockholm, Sweden), Persson owns a large number of properties in London, Paris and Stockholm.
Swedish billionaires: Hans Rausing (magnate), net worth 12.5 billion (2017)
Sir Hans Rausing, KBE (born 25 March 1926) is a Swedish businessman based in the United Kingdom. He made his fortune from his co-inheritance of Tetra Pak, a company founded by his father Ruben Rausing and currently the largest food packaging company in the world. In 1995 he sold his share of the company to his brother, Gad.
Swedish billionaires: Frederik Paulsen Jr, net worth 6.8 billion (2017)
Frederik Paulsen is a Swedish billionaire and businessman, chairman of Ferring Pharmaceuticals. Frederik Dag Arfst Paulsen was born on 30 October 1950 in Stockholm, Sweden. His father was Frederik Paulsen Sr, the founder of Ferring Pharmaceuticals. Frederik Paulsen grew up in Sweden, with his father and his father's second wife, Eva Wolf Frandsen – one of the founding researchers at Ferring. He attended school in Sweden and then went on to study chemistry at the Christian Albrecht University in Kiel, Germany and business administration at Lund University in Sweden.
Swedish billionaires: Melker Schörling, net worth 6.8 billion (2017)
Melker Schörling (born 1947) is a Swedish billionaire businessman. His investment company Melker Schörling AB (MSAB) has large interests in Securitas AB, Assa Abloy, Hexagon AB, Loomis and more. Schörling formed a partnership with fellow billionaire Gustaf Douglas, who is also a major shareholder in Securitas and Assa Abloy.
Tags: Who is, Who are rich in Sweden?, source of wealth, Sweden, Swedish, billionaire, billionaires, Scandinavia, rich, wealth, wealthy, affluence, entrepreneur, influencer, czar, mogul, tycoon, oligarch, Nordic countries, Ingvar Kamprad, Stefan Persson, Hans Rausing, Frederik Paulsen, Jörn Rausing, Melker Schorling, Antonia Johnson, Finn Rausing, Kirsten Rausing, Ane Uggla, Norden Bladet
Featured image: Antonia Ax:son Johnson is chairman of Axel Johnson AB and Sweden's richest woman with a net worth of 57 billion Swedish crowns ($6.75 billion). (NordenBladet)
---
---
Advertisement: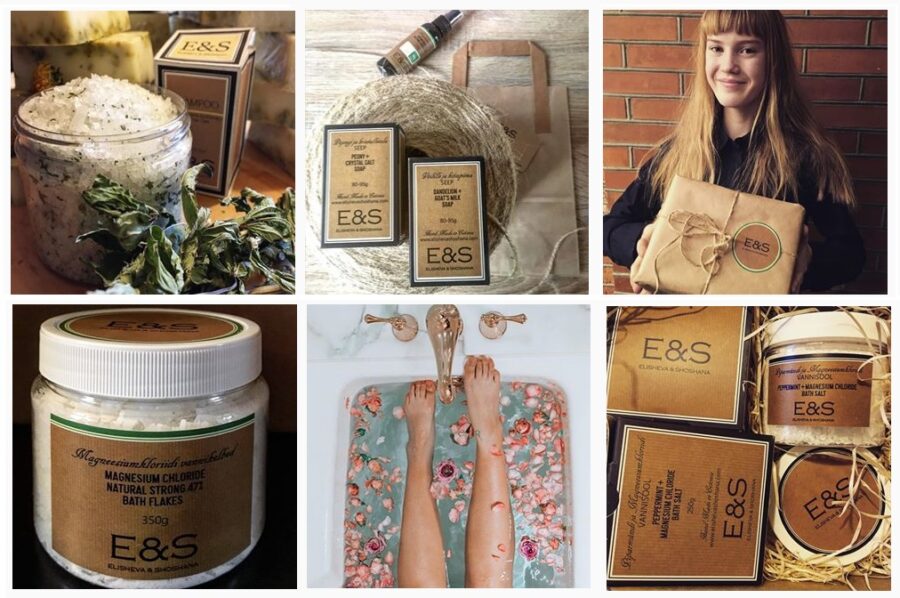 High quality & nature friendly luxury cosmetics from Scandinavia - ElishevaShoshana.com