Helena-Reet: We have opened NordenBladet.fi and NordenBladet.se!! There is great interest for the NordenBladet pages and every day I am thinking – where from here? what from here?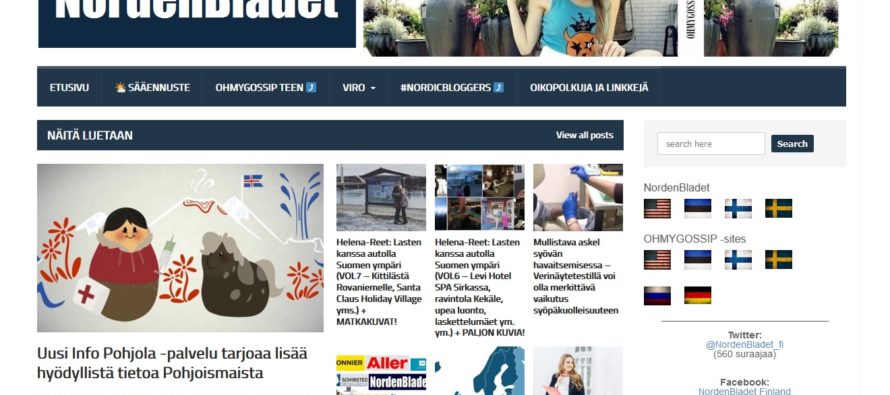 NordenBladet – For many months I have actively been involved with the archives and documentation of NordenBladet. As of today also the portals of Ohmygossip Finland and Ohmygossip Sweden have been joined under NordenBladet! How cool is that?! NordeBladet pages are published online now already in four languages – in Estonian, in English, in Finnish and in Swedish, covering the entire Scandinavia. NordenBladet-owned OHMYGOSSIP sites can be read already in six languages – besides those that have previously been mentioned, one can also read them in Russian and in German.
NordenBladet media is the youngest yet among the largest media groups in Scandinavia / the Northern countries. While Bonnier was founded already 215 years ago, Alma Media 170 years ago, Aller Media 146 years ago, then NordenBladet is just 7 years of age (and NordenBladet-hosted OHMYGOSSIP sites are 10 years oled). During these seven years however so much has been achieved! We are active in Estonia, in Finland and in Sweden, yet we reflect news from all Northern countries. We are focused on reflecting life and news in the Nordic countries. We give our best to bring to you the most important information, prognoses, announcements. Administration of ten NordenBladet + OHMYGOSSIP websites along with their 10 Facebook and 10 Twitter pages is quite an undertaking. All in all 30 separate pages that each own a unique group of readers – millions of followers and hundred thousands daily visits. Every page needs galleries, posts, articles, blogs, fresh ideas and IT-solutions. Amazing what you can achieve when you have the certain idea and are determined to carry it out.
I remember when back in 2006 I began thinking about my own media channel. I was looking for IT-solutions, being completely green as an media owner. Though I had many years of experience as a journalist working in the television magazine Nädal and also experience of working as editor-in-chief in Buduaar, this was basically everything. It soon became very clear that the greatest challenge were IT-solutions that had to be kept running. Oftentimes the development of one line took down another line, every step cost me, on every step I depended on someone else – and this is something I cannot take. I like to depend on myself – only myself. I like when anything I do is for myself, everything I decide is my individual decision, etc. The first web site was built by several IT-specialists before it was finally set up. I made one bad decision after another and constantly I was financially set back. The first example of a bad solution was that I had my web built, instead of using WordPress environment where the entire world operates today. Every innovation had to be paid for by me and in every movement I was dependent on others. That was a very inconvenient circumstance for someone who wishes to take off but has to stay to wait for the solutions. I invested my finances endlessly to the project and the activity rather reminded a hobby than business. Yet with the years comes experience – today I build the web myself, change the code and the design myself. When I need a new solution, I complete that myself in a few days. Today I am rather good in multitasking – obviously I could be working on every level of the media business – beginning from a journalist, to the web specialist or a ads marketing specialist, including the positions in between like a photographer, translator, designer, programmer, in charge of contracts, coordinating the staff and in charge of publishing. Name it.. I have learned a lot and this is positive. Today I can already anticipate so many aspects as well as errors that have already been made and must not be repeated. It could make a full post to write about selection of topics, social media, finding the sources and working on background material.
I am also very happy about our team – it is small but efficient. Everyone who is included is doing their work with commitment and this is important. I like people who can come up with new solutions, who think beyond their narrow line of tasks, who are easy to communicate with. Since there are ten websites to run (NordenBladet.ee; NordenBladet.com; Nordenbladet.se; NordenBladet.fi; Ohmygossip.ee, Ohmygossip.com, Ohmygossip.se, Ohmygossip.fi; Ohmygossip.de ja Ohmygossip.ru) then lack of work does not occur. I am glad that I have people I can lean on and who have been there through the years. One of them is Marju Rõmmel who joined in 2015 as an intern from a Finnish school and has stayed until this day. Marju compiles fashion, beauty and relation related articles for Ohmygossip.ee website and health, home and travel related articles for NordenBladet.ee website + from last month on she is also the Managing Editor of OHMYGOSSIP Estonia (Ohmygossip.ee). Thank you  for all your wonderful ideas and for the commitment! Overall… NordenBladet has the world's greatest team!
There is great interest for the NordenBladet pages and every day I am thinking – where from here? what from here? One big decision that I made lately was that preserving life in the countryside is vital and crucial. I definitely wish to move the offices of NordenBladet Sweden and NordenBladet Finland away from the capital city and develop the portal so that Nordic country life and countryside would be in focus. On the big trip around Finland where I was with my children in October for vacation as well as on mission I saw how much there is to do in the sphere of country life and on important part in that is for sure played by journalism. Among the near future missions of NordenBladet is to attract people from towns to the countryside, create new jobs in the countryside and be on the front on the journey towards a more healthy and nature friendly lifestyle. I wish that countryside schools were more valued, as well as local enterprises, that more effort was directed towards country regions and that the local production were valued more.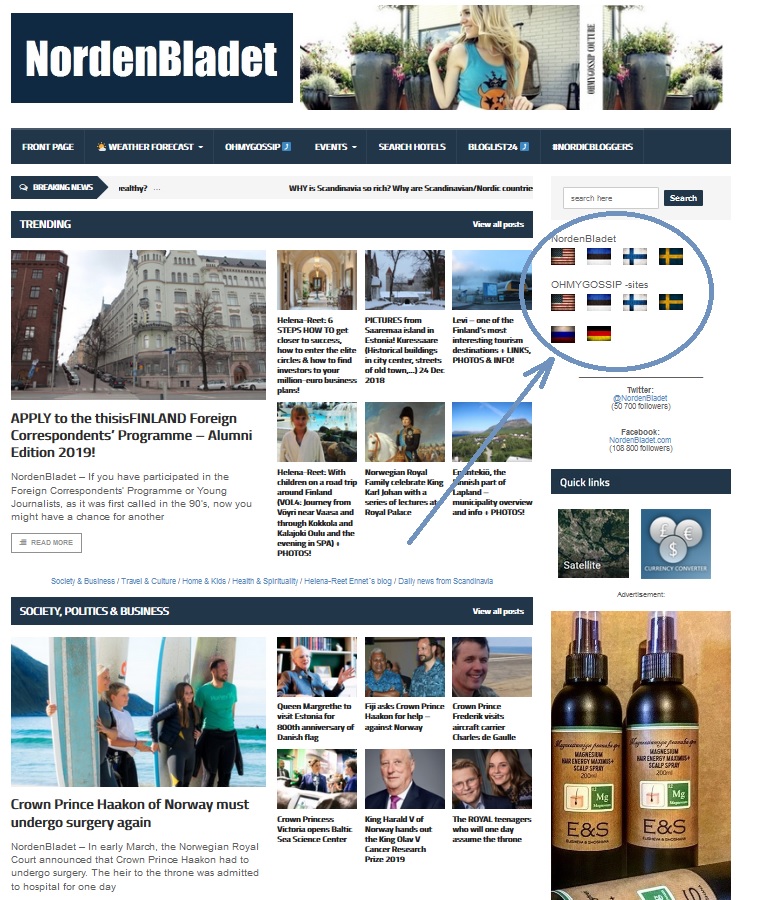 ---
---
Advertisement: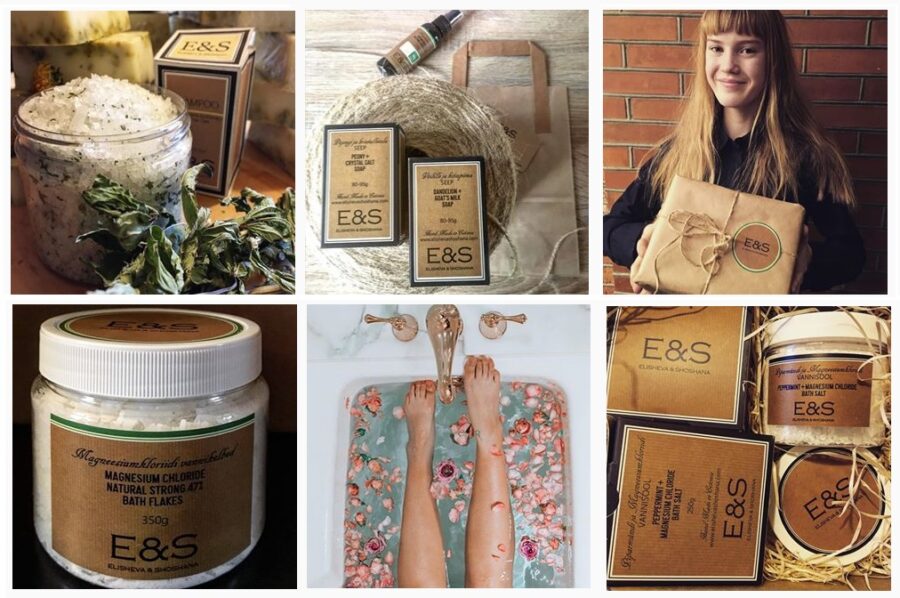 High quality & nature friendly luxury cosmetics from Scandinavia - ElishevaShoshana.com