Helena-Reet: The garden-inspired painting "Childhood", yet another consumer game, a present that has to be bought out, enjoyable RMK recreational areas and top event of the week! + BIG GALLERY OF EVERYTHING!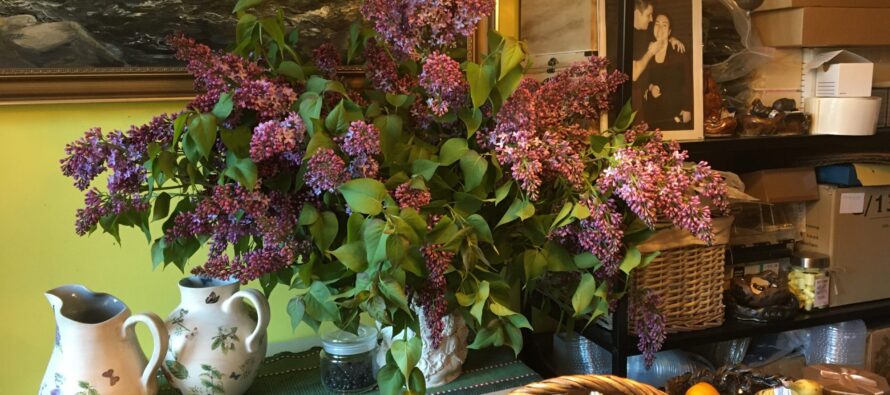 NordenBladet – Everyone that owns a farm yard or a larger gardening space in the countryside, knows that just now is the most beautiful time in the garden – apple trees, pear trees and cherries are blooming, lilacs are in blossoms and shortly also the peonies are opening their buds. Every garden owner can feel like the gentry, busily operating among this wealth of nature, this luxury and joy for the eye every day. The garden really is like a fairy-tale, and the lilac blossoms that are cut for the vase fill the rooms with pleasant springtime aroma.
My beautiful, semi-wild garden has already inspired me for years!!! Based on one of the apple trees, in May 2019 I also completed the acrylic painting "Childhood" (60x40cm). The painting is available for sale also at our art blog / web store ElishevaShoshana.com HERE and apparently this painting is also among the paintings that will be displayed at my exhibition in the Estonian National Museum (ERM). An image of the painting has nicely been displayed here in the gallery among other images. Every year I hang up a different ampel flower to this apple tree.
(blog continues in many parts also in between the gallery)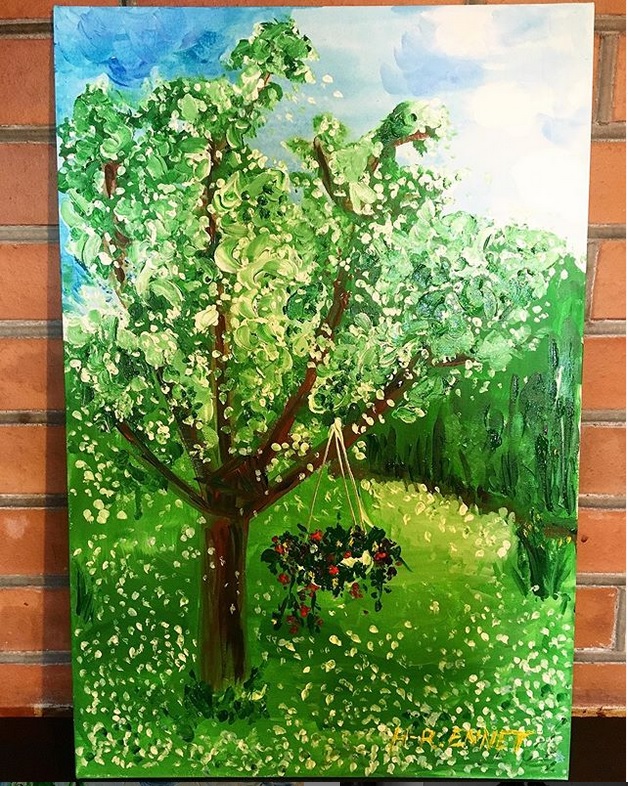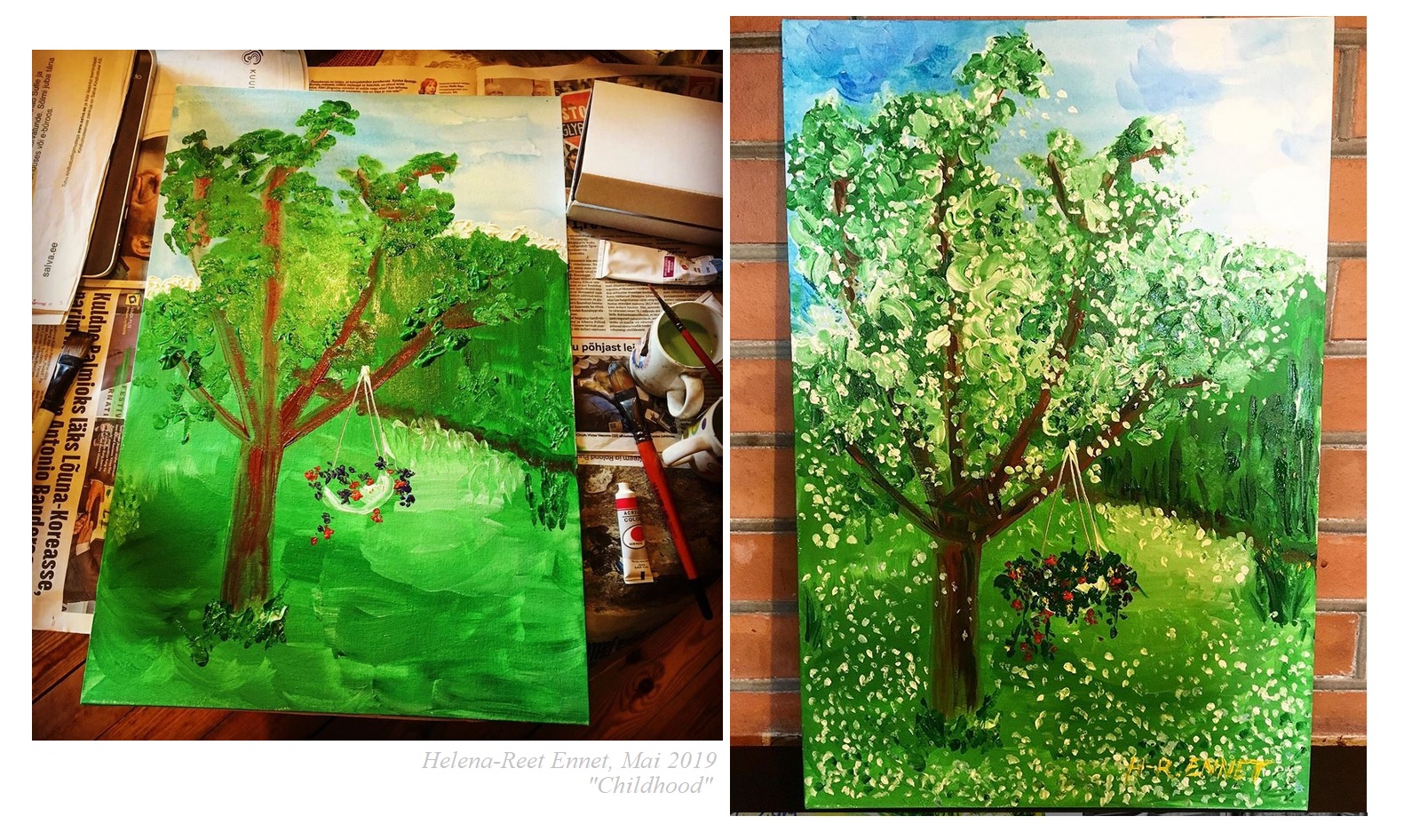 Acrylic painting "Childhood"
(artist: Helena-Reet Ennet, painted in May 2019)
Price tag of painting: 1800.- EUR (opportunity to also order reproductions of the original painting in different size)
Yet another consumer game! In the recent blog (read HERE) I wrote that I am partaking several consumer games (Coop's Toyota car lottery, Eesti Pagar's Fiat car lottery and Fentiman's motor scooter lottery). This time I went to Selver and found one more cool consumer game, the main prize here again being a car – again Fiat 500). This winning window opens to everybody that buys Raffaello pralines during the campaign period. Well.. once again I fell victim to the advertisement and added the candies to my cart. The opportunity to win a car is indeed a wonderful alibi for buying candies. Hahaaa.
In the last blog post I also mentioned ordering periodicals. Buduaar sent in return for the order such "Pea Peenar" handmade earrings which were to be bought out (for 2.59EUR) from Saku Selver parcel machine. Really, I think the worst ad ever for any brand is to offer their products for a marketing campaign, along the process of which the recipient of the gift must buy this gift from the parcel machine. Come on?! 😀
Nevertheless, receiving presents is nice and mostly I don't complain at all when I receive one. Any of you that has decided to send me something, do so without hesitation! I will take it all! 😀
As always, about food also… I have recently been a part-time food blogger here, inventor of recipes, and a food critic.
I will add to today's blog post, to the food talk, also my recipe that has been tried out, the delicious oven dish recipe.
Namely, a while ago I found from Coop cold store one of Coop's own products "Melanzane zucchine peperoni grigliati surgelati 450 g" and made up my mind to try this together with Tallegg's chicken fillet. Preparation is easy. Put chicken into oven pot or oven dish, along with refrigerated vegetables, optionally add spices (I always add at least five or six different spices), sour cream and blue cheese, and cover the dish with water or milk halfway. It will be done in the oven at 250 degrees Celsius in ca 1h 30 min.
What else has happened meanwhile? On Sunday we went to a little picnic trip to Laulasmaa landscape protection area (at Lohusalu bay). Namely we had been invited to a birthday event that took place on RMK Meremõisa recreational area. We grilled meat and potatoes on the fire and enjoyed the beautiful sandy beaches and seaside pine grove for many hours. I used the recreational area built up by the State Forest Management Centre (RMK), for the first time in my life, and afterwards I was positively impressed! Those of you who wish to rest for free somewhere in the beautiful nature in Estonia, then it would be useful to visit their website –> loodusegakoos.ee/kuhuminna, where you can find a suitable way for active leisure (for example: study trail, hiking trail, cycling trail, off-road trail, campsite, campfire site, outdoor fireplace, forest hut, rental hut, nature house, visitor centre, information point, observation tower, rest stop, hiking option, camping facilities, wheelchair accessibility, etc).
Now, and finally the top moment of the week! Estella Elisheva's (today 15 years old) Bar mitzvah ceremony and exam in the synagogue of Tallinn Jewish School! Well, she turned 12 already three years ago (you can read the blog about it HERE), yet this year she completed the official Bar mitzvah ritual, following the Jewish customs for that, and earned a relevant certificate. Congratulations!
That's everything for now! Hugs!
Here you can read my other recent blog posts:
Helena-Reet: Elisheva & Shoshana business negotiations with Kaup24, periodicals orders and consumer games
Helena-Reet: Ivanka Shoshana's birthday VOL2, my concerns, new Arborvitae hedge + exciting guests
Helena-Reet: Children's birthday – menu, outfit and gallery!
Helena-Reet: Liberty to plan my own time is a luxury that I love above all!
Helena-Reet: Golden keychain that will open the gates of Heaven; yesterday's activities in the garden + mega tasty WILD GARLIC SALAD RECIPE!
Helena-Reet: Mother's Day + Month of May activities in the garden
---
Advertisement: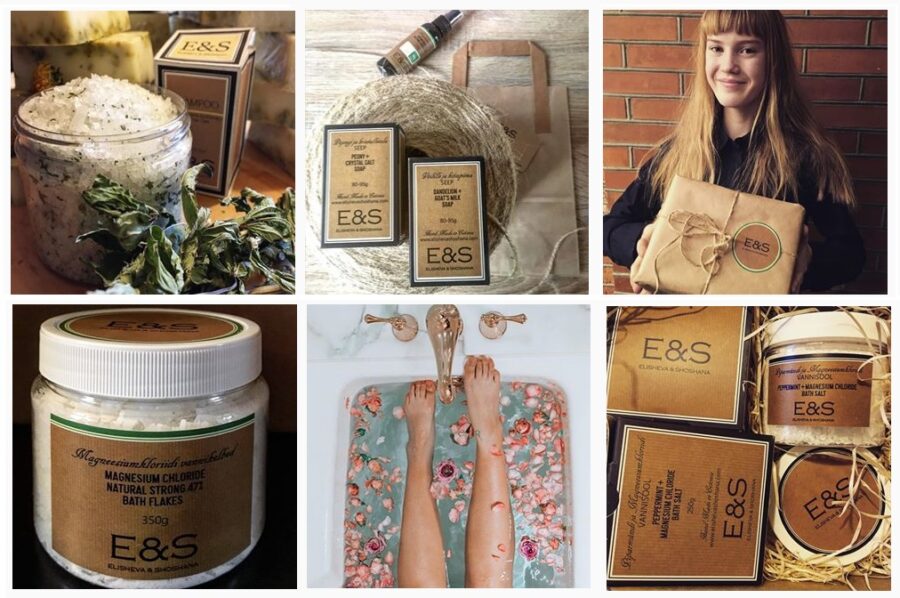 High quality & nature friendly luxury cosmetics from Scandinavia - ElishevaShoshana.com